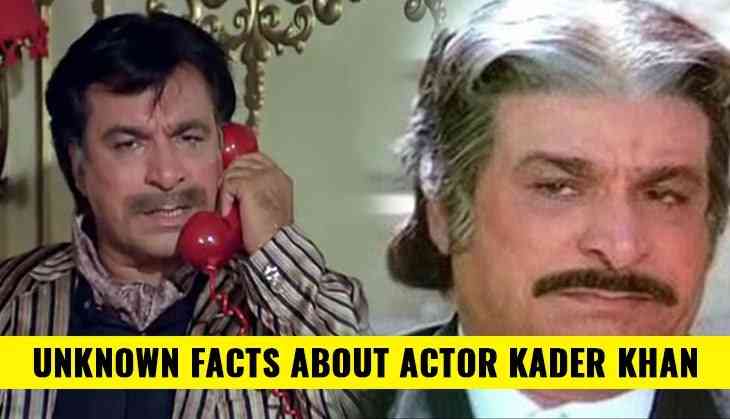 It must be sad news for the Bollywood on the very first day of the New Year as it has lost very famous, talented and veteran actor Kader Khan. His demise news has left everyone in shock on 1st January 2019 morning.
The actor died at the age of 81 in Canada today. His death news was confirmed by his son Sarfaraz.
Kader Khan was one of the finest actors that our Bollywood industry has. He has left a lot of memory behind us.
He was the combination of rare talents who will be memorised for his commendable performances.
Well, he is known for his acting and comic timings besides, there were some unknown facts that many of us unaware.
Today, we are paying a special tribute to the actor.
Have a look at some unknown facts about the actor Kader Khan:
1. Many of you might unaware that h was highly educated actor who had completed his masters in the Arabic language as well as he was an engineering professor in M.H.Saboo Siddik College of Engineering in Byculla. He was a civil engineer before his acting career started.
2. Very few people know that Kader Khan was signed by Dilip Kumar when he spotted him in a theatrical play in a college event.
3. Interestingly! Kader Khan also wrote some dialogues for Bollywood's Shahenshah Amitabh Bachchan. Yes, Kader Khan has written dialogues in more than thirty-three of Big B films.
4. He even had won the Filmfare Award for Best Dialogue in 1982, for the film Meri Awaaz and proved himself to be a successful dialogue writer and scriptwriter.
5. Did you remember his last appearance in mainstream movies? Well, he has been away from the film industry for a long time and was last appearance in 'Aman Ke Farishtey' (2016) and he was likely to make his comeback with 'Welcome Back'.
aLSO READ: Kader Khan a veteran actor-director dies at the age of 81, confirms his son; Bollywood mourns his death