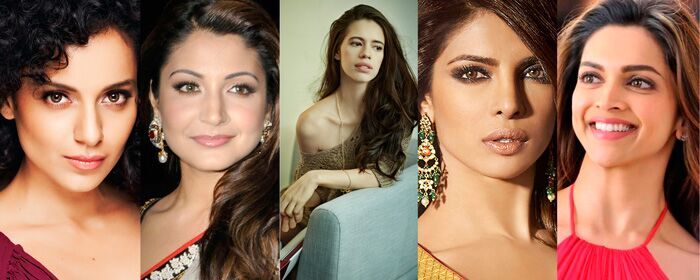 While Kangana took us on outside the comfort of the theatres, Anushka pulled off an NH10.
Deepika launched the Live Love Laugh Foundation to reach out to others suffering from depression like her.
And Kalki spoke about being sexually violated as a child, that too on Facebook.
Be it the 80s, 90s or the 2000s, there has always been progressive cinema and disturbingly regressive cinema. For a year that had us recoiling over Hate Story 3 and Guddu ki Gun, 2015 wasn't all bad, thanks to films like NH10 and Margarita with a Straw.
As for Bollywood actresses, their roles - ranging from excellent to good to 'just why'- nothing changed phenomenally this year.
Does this sound like a fairly pointless start to an article based on trends in 2015? Well, we aren't here to talk about these movies. We're here to talk about the women who were in these films, hopefully just as honestly as they spoke about themselves this year.
The reigning Queen
After Kangana Ranaut's stint with Queen in 2014, we began to suddenly expect women-centric but 'cute' characters from her. We wanted her to look great, act great and entertain us.
Instead, she took us on outside the comfort of the theatres. In this Women in the World London summit interview from October 2015 she talks about a range of problems with our country, our obsession with stereotyping, our double-standards with regards to spoken English, and how we view femininity as a weakness.
"I am a lot more than my appearance, or my age, or my colour, or my hair," says Kangana. We couldn't agree more.
If you missed this interview, drop everything and watch it here now:
My way, or NH10
Anushka Sharma is tired of the constant media spotlight on her personal life. She's tired of being asked if her lips look different and she's had it with being treated as the sole cause for Virat Kohli's losses. She's also tired of being paid abysmally lesser than her male co-stars. And she's tired of judgement.
So, in order to save everyone the trouble of digging out fictional details of her life, Anushka went out on a limb and gave this stellar interview to Anupama Chopra on FaceTime.
From saying that "people don't like women with guts in this industry" to bluntly stating that "we're so lucky that we live in India because the taste is so mediocre that we're all stars", Anushka really hits the nail on the head.
Watch her break the film industry down for you, with a wrecking ball:
More than just Exotic
Priyanka Chopra has been on a high this year. Right from Dil Dhadakne Do, to her music career abroad, to ABC's TV show Quantico and now, Bajirao Mastani, there seems to be no stopping this one-woman army. We're not complaining.
So when comedian Kapil Sharma asked her an unnecessary question about the amount of money she was making, thereby implying that she's greedy, she gave it back to him.
In a recent interview with The Times of India, Priyanka was asked if she identified with her character Kashibai from Bajirao Mastani.
And pat came the reply: "No way! I don't think you should be in a relationship if your partner is in love with someone else. It is terrible. I believe you should be with the one you love and with whomever you find happiness - this applies to men and women. There are no excuses if you are unhappy in a relationship. I am sorry, but I am a 21st century girl and that's how I feel."
And for those who like to assume actresses squabble over petty issues, here's Priyanka's word on Deepika going international with Vin Diesel:
"I am so excited about it and I hope it is true. I wish that more actors from India come into global entertainment. We are extremely talented and we can match steps with anyone in the global entertainment industry. Actors like Irrfan and Anil Kapoor have paved the way for me here. I am proud of Deepika. It is time for Indian actors to stand up and take credit for the fact that we come from one of the most prolific industries in the world."
Boom.
It's a smash hit
Deepika Padukone is a brilliant actress and she's a great player. That has been established. But what sets her apart is that beyond the tangible success of this young star lies a vulnerable human just like the rest of us. But unlike most, she's willing to talk about it.
Depression is a dangerously common mood disorder. But not many in India want to talk about it.
So when a dazzling star like Deepika confesses that she underwent acute depression and is undergoing treatment for it, it made for big news. What's more, she also launched the Live Love Laugh Foundation to reach out to others suffering from depression.
Here's her interview with Barkha Dutt after launching the foundation where she simply says her reason was that she felt "like talking about it". How relatable is that?
Watch the interview here:
Because Kalki is upon us
She didn't wake up to brutal honesty in 2015. It has been an innate part of Kalki Koechlin. So much so that she chose to speak about her divorce with Anurag Kashyap even after the paparazzi dug their claws into it.
In an interview to the The Times of India, she said, "It took a long time to decide. We both love each other very much and are painfully nice to each other. It's not easy, but I focus on work. It's been a journey and discovery of who I am and what I am on my own. I have gone back to writing, working on my craft and working on my body. I have also taken a lot of holidays with my family this year."
On Humans of Bombay Facebook page, she also spoke about being sexually violated as a child.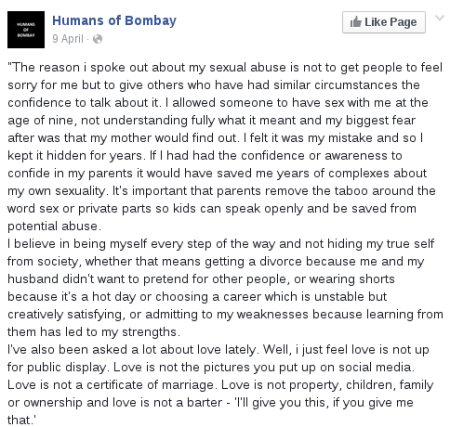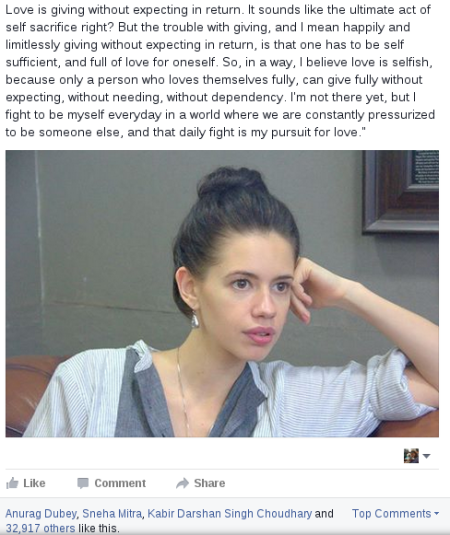 And then she took up a film like Margarita with a Straw. Not only did she play a specially-abled person with conviction, but also went on to speak extensively about the sexual rights of this minority community.
Dilwali is back
Kajol has been in the scene for 23 years, long enough to know the Bollywood film industry inside out. So when she says there "is too much pressure to look a certain way" in Bollywood, we better believe her.
Known for always having been outspoken, it's great to have Kajol back in the limelight, especially when she says stuff like this before Dilwale release:
"There is too much importance attached to [appearance] but at the same time it is there. You can't get away from it. You can adapt to it or not. You have to take a stand... I have figured a way around it so I am comfortable with it myself. I don't exactly make a fool of me in public anymore. But after a point you will see me in my pajamas. It is something innate in me. I can't be bothered about everybody's opinion." - Source, PTI
Pajamas are great, Kajol. Please make a fashion statement of them.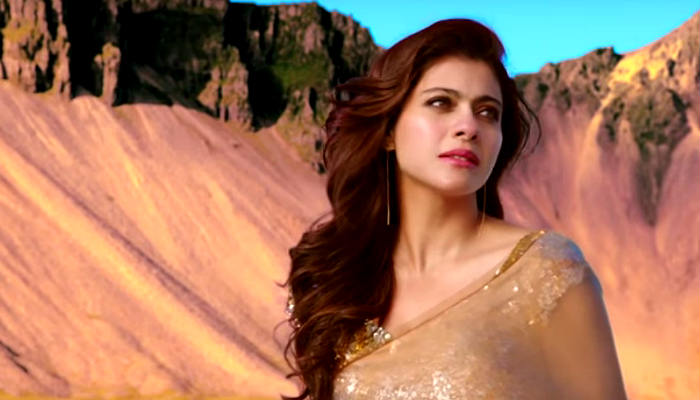 Soha, so good
Soha Ali Khan surprised us at the recent Women in the World summit in Delhi when she coolly spoke about the obsession with looking a certain way and how the "out of bed look" for stars takes a few hours to perfect.
She then went on to make this great point about media influence and how that shouldn't be the only point of reference for beauty. Watch the short video here:
Four Angry Indian Goddesses
One of the good things Rajeev Masand does on TV is that he brings prominent faces from the film industry together for a round-table and asks them relevant questions.
For the 2015 edition of his Actresses Roundtable, Masand spoke to Richa Chadha, Kalki Koechlin, Deepika Padukone and Anushka Sharma on 17 December.
Let's just say, they debate like bosses. Watch the full interview here: