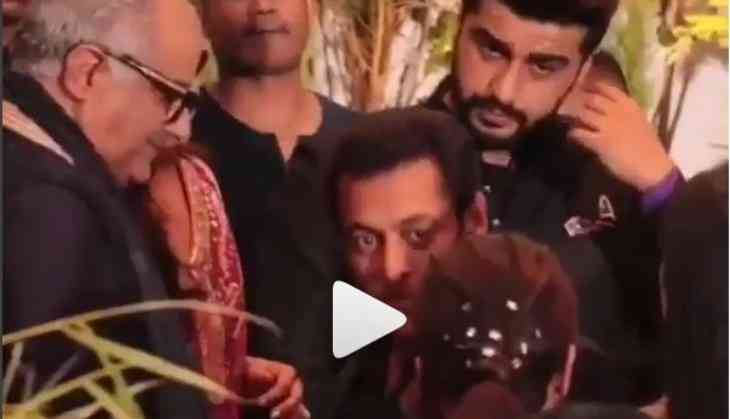 Bollywood superstar Salman Khan is very strict when it comes to his friends and foes. Whoever has gone worst with Tiger he never ever easily forgets that person. There was a time when Superman Salman Khan fan Arjun Kapoor was very close to Dabangg Khan but now it surely has become the wrong case for the superstar.
In AIB Roast Arjun Kapoor indirectly insulted Salman Khan's younger sister Arpita Khan that what Salman had not forgotten till now. Yesterday, on Tuesday night Salman Khan came to Sonam Kapoor's wedding reception with Jacqueline Fernandez where Arjun Kapoor and Boney Kapoor were presented to welcome the guests. Here when Salman entered the venue he saw Boney Kapoor.
Since Boney Kapoor is very close to Salman Khan he immediately went to hug him and even Boney kissed Salman's forehead. In this whole case, Arjun was also presented at the welcome door but since Salman was totally ignoring Arjun he immediately rushes to enter the venue. Arjun who was standing outside the door till now immediately entered the venue.
Also Read - Finally Sonam Kapoor wedding reception became the reason for Arjun Kapoor and Janhvi Kapoor's union
Even in the venue place Arjun Kapoor totally tried to avoid Salman Khan and wherever he was going Arjun just trying to avoid as much as he can. When Salman reached the venue that time Katrina Kaif was leaving as soon Salman saw her he hugged and started talking for a while.
Also Read - Video: Race 3 actor Salman Khan ignores media for Katrina Kaif is something really shocking