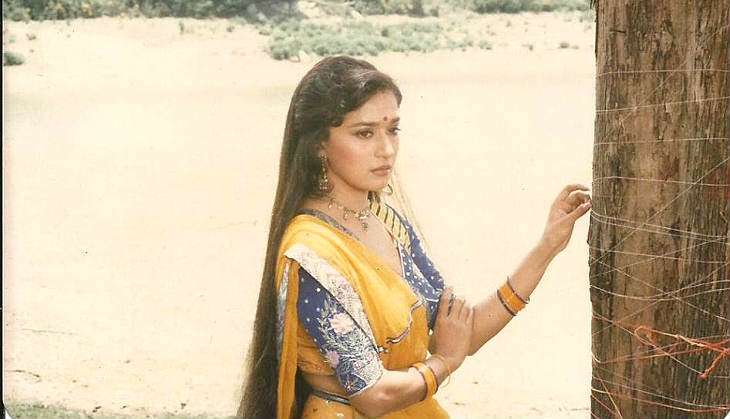 I shot this picture of Madhuri Dixit on an outdoor shooting of Subhash Ghai's Ram Lakhan in 1988.
Despite three women - Raakhee, Dimple Kapadia and Madhuri - being present simultaneously on the location, the three would retire to their chair after each shot, barely exchanging more than a hello and a goodbye through the day. Strange but true.
I interviewed Madhuri Dixit at length only once in my career, just before she quit the industry for a long hiatus. It so happens that both Madhuri and Juhi are more at ease speaking to my Deputy Editor, Jitendra Kothari, and have each done a dozen interviews with him.
I found Madhuri to be a very polite but reserved person who was guarded like the Kohinoor jewel by her bouncer-built secretary, Rikku.
Also read: #CinemaSnapshot: When Sridevi waited for Yash Chopra to fix lights on the sets of Chandni
She always graciously attended the parties I threw on behalf of Movie magazine. I remember for a party held at The Piano Bar, Kemps Corner, Madhuri wore a tight-fitting, shimmering, eye-catching golden top and became the belle of the ball. She arrived past 11 pm and fled the party minutes before the clock struck twelve, probably because, as someone joked, her car would turned into a pumpkin otherwise. She invited me to her marriage party at Sun n Sand - the only one she ever threw.
The always-witty Randhir Kapoor, while nursing a drink at the party, quipped, "In my entire career, I don't recall a heroine ever throwing a party though they have attended many."
Madhuri was a simple, educated, middle-class girl, chaperoned by her mother to the studios. Her irrepressible talent and her indefatigable spirit before the camera made her stand out. It to Subhash Ghai's credit that he re-launched her with fanfare in Ram Lakhan (1989) after her non-starter debut in Rajshri's Abodh (1984) and forgettable second-lead roles to Meenakshi Seshadri in Awara Baap (1985) and Swati (1986). Just a couple of months before Ram Lakhan (released in January 1989) came Tezaab (November 1988), in which she played the feisty dancer, Mohini, whose gyrations to 'Ek do teen' became a nationwide sensation.
Also read: #CinemaSnapshot: Interviewing Smita Patil, the affable cinema goddess
Madhuri went on to have more memorable hit songs ('Choli ke peeche kya hai', 'Dhak dhak karne laga' and 'Channe ke khet mein') than ground-breaking roles.
I felt she didn't always use her discretion when it came to signing films, but nonetheless her films succeeded at the box office. Hum Aapke Hain Kaun (1994) was the biggest blockbuster of its time. I remember chuckling to myself when a string of lights strategically placed around the screen of Liberty cinema would light up like twinkling stars during the film's many songs, and one heard a resounding 'Ha-aa' when Madhuri appeared on screen.
She had a beatific smile and people often compared her smile to Madhubala's, though I feel Madhubala's smile had an intriguing Mona Lisa-like quality whereas Madhuri's smile was more direct.
Success made Madhuri more confident and articulate. Today, heroines are demanding equality, but Madhuri had spoken about it years ago when we did a women's special for my magazine. Her quote, "Actresses are perceived as second class citizens" remains etched in my mind. All too soon, however, she had married and retired.
Also read: #CinemaSnapshot: When Rakhee Gulzar revealed why she doesn't touch food at parties
After her return to Mumbai from Denver, USA, I remember meeting her at the premiere of her erstwhile arch rival Sridevi's comeback film, English Vinglish.
I walked up to the last row of a suburban theatre to greet her and Madhuri was warm and effusive as always, snugly seated next to her husband, Mr Nene, while Pam and Yash Chopra were seated to her left. I told her to watch out for my daughter Nikita Raheja Mohanty's name when it appeared as the costume stylist in the credit titles, and she perked up and said, "Sure, definitely" in that post-Denver twang she has yet-to-shed.
Also read: #CinemaSnapshot: How Anil Kapoor hasn't changed at all from his Mr India days
--Sourced from Dinesh Raheja, Editor, Bollywood News Service