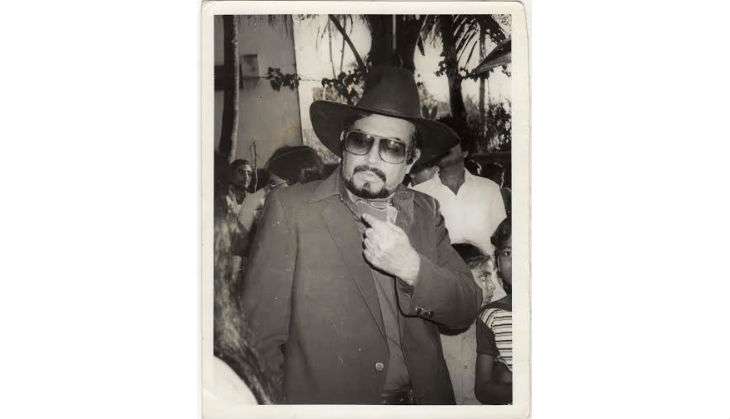 I shot this picture of Sanjeev Kumar in the compound of Landmark building, Bandra, where he was shooting for R K Nayyar's whodunit Qatl circa 1985.
Like most of the film-going populace of the 1970s and 1980s, I was extremely fond of Sanjeev Kumar as an actor. I have interviewed actors from Amitabh to Zaheeda (read A to Z) yet, somehow, Sanjeev eluded me. But I have always tracked his career from even before the time he became a star with LV Prasad's Khilona (1970), in which he memorably played a jilted lover who loses his mental equilibrium but is helped by a prostitute (Mumtaz). Incidentally, Khilona shot both Mumtaz and Sanjeev Kumar to A-list fame after they had served long apprenticeships in supporting roles.
Many of Sanjeev's best performances (Koshish, Anubhav, Seeta Aur Geeta, Sholay, Pati Patni Aur Woh, Aandhi, Mausam and earlier films like Shikar and Sunghursh) are etched in my memory but off screen, my association with him began in my schooldays. During my ISC Board exams from a 100 marks paper in Hindi, 50 marks were reserved for a composition. We were asked to review a film for the essay and I chose to write about the Sanjeev Kumar-Jaya Bhaduri starrer Koshish (1972) in which they played a deaf and dumb couple. I was so impressed by Sanjeev in the film, my hands just flew on the answer paper and I was rewarded with my name appearing on the Palm Beach school board as the student who had done them proud by excelling in Hindi. Thank you, Sanjeev Kumar.
Offscreen, he was as natural and unaffected as was onscreen. I remember cooling my heels with Smita Patil and newbie actor Rajan Sippy on the sets of Kaanch Ki Deewar (1985); Late Lateef Sanjeev Kumar had not arrived. Finally, a Fiat car pulled up and Sanjeev Kumar hastily emerged wearing a lungi kurta, his curly hair dishevelled. He told the relieved director, "Chalo shooting karte hain." When the director reminded him that he had to be appropriately dressed for the shot, Sanjeev earnestly asked him, "Can't I shoot in this? Do I have to change?"
Compare that to the gym-trim, painstakingly styled and coiffed heroes of today!
But then Sanjeev's trump card was his acting; he established the primacy of talent over all other considerations.
Before I sign off, I must mention that when I went to do a rare interview with the pretty, golden-voiced actress-singer Sulakhana Pandit (Sanjeev's heroine in Uljhan) at her Juhu apartment, she was immersed in watching a video cassette of Uljhan. Tearfully, she told me that she would have liked to marry Sanjeev Kumar. But that, like my interview, was not destined to happen. Sanjeev died of a heart ailment at the shockingly young age of 47 on 6 November 1985.
-- Sourced from Dinesh Raheja, Editor, Bollywood News Service