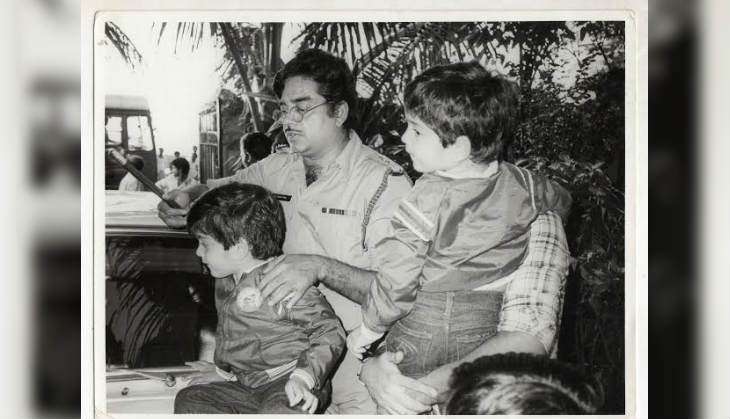 This picture was shot below the Bandra building - Landmark - in which '60s actress Sadhana had a swish sea-facing flat. Her husband, director RK Nayyar was shooting scenes for his thriller Qatl (1986) in the building's compound.
The film starred Sanjeev Kumar as a visually challenged man, Sarika as his adulterous wife who gets killed, and Shatrughan Sinha as the investigating officer.
During a break in the shooting, I saw Shatrughan Sinha spending time with his toddler twins, Luv and Kush, who were cute as a button but were also true Dennis The Menaces. Earlier, when they had shot a scene in Sadhana's apartment, the actress had treated the twins to ice cream cones and they had jumped all over her sofa, dripping ice cream while she smiled indulgently.
Other memories of Shatru: I plead guilty for inadvertently holding back the shooting of Ramsay's Telephone because Shatru was in the midst of an interview with me for Cine Blitz and, despite repeated calls from the film's nervous AD to report for the shooting, he continued living up to his sobriquet, Shotgun and speaking to me non-stop. On a couple of occasions, I suggested he go for the shoot while I waited for him but he stubbornly stood his ground. Not easy to make him khamosh once he starts.
Later, I started a 'Talk To The Star Scheme' while I was editing Movie magazine, and this time Shatru talked to his heart's desire on the calls that poured in from his fans.
To his credit, he had a great sense of wit. In a humour column, I once wrote that Shatrughan was arrested at the airport for carrying liquor in his eye bags ... he had puffy eyes. But stars were far more sporting those days and could laugh at pot-shots made at them too.
-- Sourced from Dinesh Raheja, Bollywood News Service