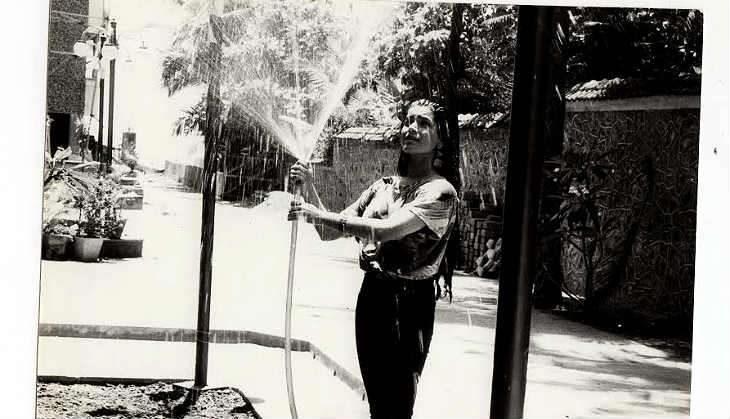 I shot this picture of Neelam Kothari below her Versova building. She was shooting with photographer Jagdish Mali for a 'Beat the heat' feature for Cine Blitz; Jaggi shot her in colour and I shot her in black and white.
Neelam was as friendly as the girl-next- door and in the late 1980s and early 1990s, she was the favourite of filmmakers looking to fill ingenue roles with a wide-eyed, innocent-looking actress who was popular with audiences and could also dance well. Thereafter, Juhi Chawla stepped into that position ... she moved on to more mature roles but Neelam remained the eternal baby doll.
The Hong Kong-born Neelam, who lived for a while in Bangkok too, spoke with the most endearing international accent, which she retained even after years in the industry. She began her career with Karan Shah in Ramesh Behl's Jawaani (1984) and later worked in the actor's home production, Chor Pe Mor too, while she also did a dozen films with Govinda and half-a- dozen films with chatterbox Chunky Panday. Since I was close to Chunky Panday and Tina Munim's nephew Karan Shah in the 80s, I would inadvertently meet Neelam a lot.
We spent quite some time together on the outdoor location of Pahlaj Nihalani's Aag Hi Aag in Bangalore where I played rummy for hours together with her aunt Shahnaz. Since Neelam entered the industry when she was in her mid-teens she was constantly chaperoned by her mother Parveen, a genteel, soft-spoken lady, or her talkative aunts Shahnaz and Katy.
I got to know Neelam really well when a whole bunch of us including Karan Shah, Rohan Kapoor, Khushboo, Atlee Brar, Rajan Sippy, Richa Sharma, did a day-long picnic photo shoot in Khandala in 1986. We shot some fabulous pictures at a lit-up Churchgate station too at midnight in which Rajan Sippy and Govinda participated, and a ghoda gaadi shoot at Marine Drive in which Juhi Chawla was present too. I remember Juhi refused to come to Churchgate at midnight since it was past her curfew hours.
Neelam's mom, Parveen, was in the same car as me while we were driving to Khandala and told me, "I like chicken sandwiches a lot but please don't mention it in your piece. It's off record." I still chuckle to myself when I recall that incident.
In the early '90s, Neelam and Bobby Deol had a bitter split after a long courtship and she poured her heart to my colleague Jitendra Kothari for Movie magazine, of which I was the editor. I am glad she is now happily settled with actor Sameer Soni and is helping her family's jewellery business. The couple has adopted a baby girl, Ahana.
Though she is a mother now, for me, Neelam will always be the petite youngster who seemed to enjoy, rather than resent, being chaperoned by her mom and aunts.
-- Sourced from Dinesh Raheja, Editor, Bollywood News Service