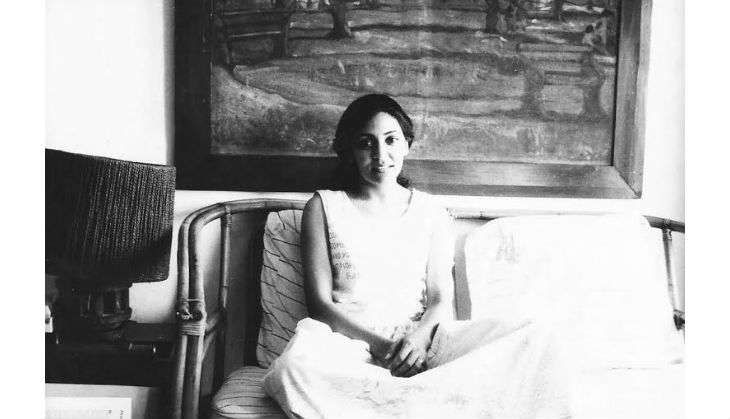 I shot this picture of Deepti Naval at her Versova residence. The actress was one of a kind - just like her house. In her strikingly unique home, everything was unusual - from the centre table which was placed on a stack of books to her bathroom (curtains only, no doors!).
I met Deepti and her then husband Prakash Jha for the first time at a press screening of Damul, a film about bonded labour which Prakash had directed.
The film, shot with a handheld camera, left me feeling dizzy, so when we were filing out after the screening, I quickly mumbled, "All the best" to Deepti and Prakash and left in a procession that was largely silent.
But I had heard a lot about Deepti from veteran actress Nadiraji (my self-professed mother). Nadiraji (you may remember her from Aan, Shri 420 and Julie) even lent me a book of well-thought-out poems written by Deepti.
Unfortunately, I misplaced the book which made Nadiraji very cross. She said dramatically, "Deepti will kill me if she finds out I have lost her book."
Also read: When Rakhee Gulzar revealed why she doesn't touch food at parties
Deepti could get upset easily. I met Deepti Naval finally by default when she had a verbal spat with my reporter during the days when I was the editor of Movie magazine. I had to intervene and make peace with a phone call to a furious Deepti. The phone call resulted in an invite for dinner from Deepti. We spent a lovely evening discussing poetry, philosophy, spiritualism and death.
Deepti shared her experiences of staying at a mental asylum for women because she wanted to make a film on it titled Aks. She spoke very fondly of her adopted daughter Disha, who lived with her ex-husband Prakash.
Also read: How some French wine broke the ice between Amitabh Bachchan and Rajesh Khanna
I told Deepti, I loved her Chamko moment in Chashme Budoor when she is trying to sell washing powder detergent to a self-conscious bachelor, Faroukh Shaikh. "You have such a beautiful smile. Why do you tend to scowl?" I queried. She smiled, "I will check in the mirror tomorrow." A few weeks later, in her next interview, she said words to the effect: "Someone told me you have a beautiful smile. I must smile more often."
-- Sourced from Dinesh Raheja, Bollywood News Service
Also read: When Sridevi waited for Yash Chopra to fix lights on the sets of Chandni