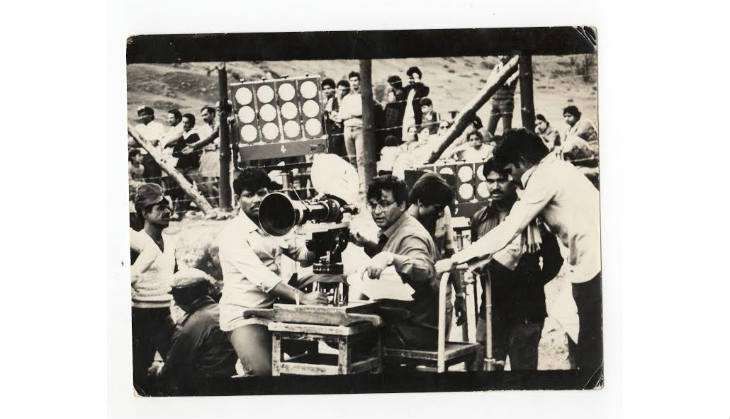 I shot this picture of Subhash Ghai on an outdoor location shoot, one of the many he invited me to. He was a director who loved capturing sweeping panaromic shots with his camera and consequently he loved outdoor shoots. I chose this picture for a photo essay on him because it captures his personality to the T - his passion for cinema is the stuff cinematic lore is made of. He may make commercial movies but he can discuss all cinema at length.
Subhash and I form a mutual admiration society. He is warm and lion-hearted; loud but lovable. Gopal Panday (a good man who passed away recently) was a loyal publicist of Ghai, and he would tell me, "Subhashji kehte hain, outdoor par Dinesh ko hi bulana hai." I attended the outdoor locations of Ghai's famous hits such Hero (Ooty), Karma (Pahalgam), Ram Lakhan (Ooty), Saudagar (Mahableshwar) and Pardes (Fatehpur Sikri), and he made me feel at home each time.
A couple of years ago, I attend a do thrown by Subhash Ghai for editors-turned- friends including Rauf Ahmed, Bharathi Pradhan and Bhavna Somaiya, at his Carter Road terrace flat. His wife Rehana and he were at their charming best, and full-of- enthusiasm newcomers, who were students of Subhash's, even regaled us with songs. It brought back a rush of memories of so many lavish film parties hosted by Subhash. An enterprising showman - one who belonged to the elite club of Raj Kapoor and Manmohan Desai - his grand parties in the 1980s and 1990s would have Bollywood abuzz for weeks. His "Showman" label was well earned -- he had organised the premiere of Karma in not one but multiple theatres across Mumbai!
Some people laugh at Subhash's goof-ups while speaking English, but I admire this self-taught man for risking ridicule to learn something new - after all, direction too was once a fresh start for this FTII alumni; he had come to Mumbai to become an actor (catch him if you can in the 1969 superhit, Aradhana).
For almost a quarter century between Kaalicharan (1976) and Taal (1999), Ghai had his finger pressed firmly on the pulse of the people. Unfortunately, for more than a decade now, he is unable to find the pulse again. Despite his recent failures at the box office, his image as a showman persists; and recent remakes of his films like Karz and Hero show that they are not easy to duplicate. This man is larger than his films.
-- Sourced from Dinesh Raheja, Bollywood News Service