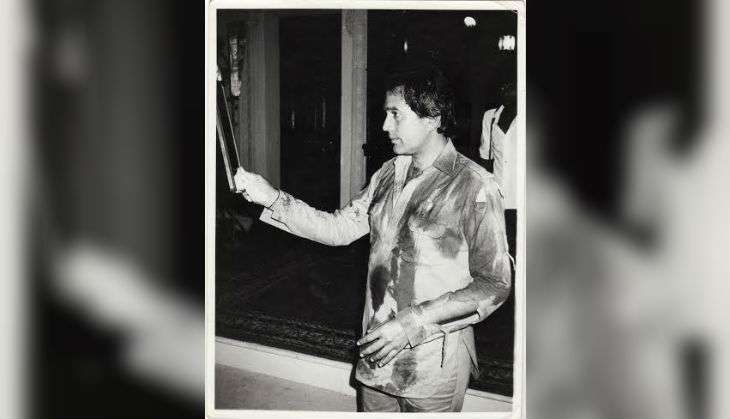 This picture was shot at Seth Studios on the sets of Brij's Oonche Log in 1985 when I had gone to interview Rajesh Khanna. This was not, however, the first time I had met Khanna. My first meeting with Khanna was at the shooting of Aaj Ka MLA (1984). During a party held after the shooting at Chennai, I was imitating Kakaji's favourite dance step for my fellow scribes. When I turned around a full circle, Khanna was standing right in front of me. Time froze and so did I.
Later, we broke the ice when we shared the 'tiffin' (the tiffin in a Chennai studio is meant for one but can feed a family). When he chose to exhibit his charm, Khanna could have anyone eating out of, not just the tiffin, but his palms.
In 1990, after almost two decades of steering clear of each other, Amitabh Bachchan and Rajesh Khanna came together for a cover story for Movie magazine, of which I was the editor.
At the appointed hour, the two showed up within minutes of each other; but the air was frosty and not just because of the over efficient air conditioning at the suburban five star. Amitabh wanted a separate room to change while I had organised a single room for them to share. An unusually accommodating Khanna willingly dressed in the bathroom, leaving the room to Bachchan's disposal. Initially, they answered the interview conducted jointly by my colleague Nina Arora and me in monosyllables. So I quickly ordered some French wine and soon, an astonishing bonhomie developed. The two legendary superstars, much publicised as cut-throat rivals, sat across a table and analysed their life, times, spouses and even heaped praise on each other.
Thereafter, I spent many evenings at Khanna's Khar office pad watching him sip on whiskey and resort to a gabfest while I weathered acidity (Kaka, as he was called by friends, never ate with his drinks). Now that he is no more, I miss him a lot, both onscreen and off.
-- Sourced from Dinesh Raheja, Bollywood News Service