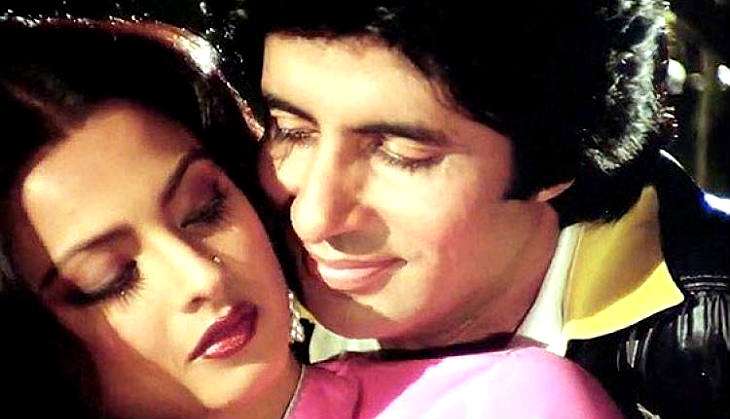 Their love story remains the most enduring of all the mysterious relationships in Bollywood. Were Rekha and Amitabh Bachchan ever together? Why does she still wear sindoor (a sign of Hindu marriage)? Why do they never face each other even when they cross each other's paths at events accidentally?
There are many questions that nobody dares to ask these veteran actors. They last shared the screentime in 1981 Hindi film, YRF's Silslia. The film itself is considered to be inspired by the real-life story of Amitabh Bachchan, his wife Jaya Bachchan and Rekha.
Three years after the film's release, Rekha gave an interview to a leading glossy and spilled the beans on everything. Here're the three answers she gave when asked about her personal life:
Also read: #CinemaTales : When Manna Dey moved Mohammed Rafi to tears
Why Amitabh Bachchan denied the affair:
"Why should he have not done it? He did it to protect his image, to protect his family, his children. I think it is beautiful. I don't care what the public thinks of it. Why should the public know of my love for him or his love for me?
I love him, he loves me -- that's it! I don't care what anybody thinks. If he's reacted that way towards me in private, I would have been very disappointed. But, has he ever done that?"
Also read: #CinemaTales: Why did Jeetendra play body double to Sandhya in V Shantaram's Navrang?
On having children:
"My fantasy is to have lots of children. I hope it doesn't remain a fantasy. My mother always tells me to have a child by the time I'm 30. I think it's right. I want my children to physically grow with me. I don't think there will be a communication gap because I'm very forward. I think 100 years in advance."
On women rights:
"I don't want to fight for women's rights. I am definitely not a libber. Okay, I don't believe in this dowry, sati business. But, I think it's foolish to ask even for equal rights. When you know that you are much stronger than a man in many ways, why fight?"
Also read: #CinemaTales: Sorry, Priyanka Chopra! RD Burman wooed Hollywood with 'In Every City' 29 years ago
-- With Filmfare inputs