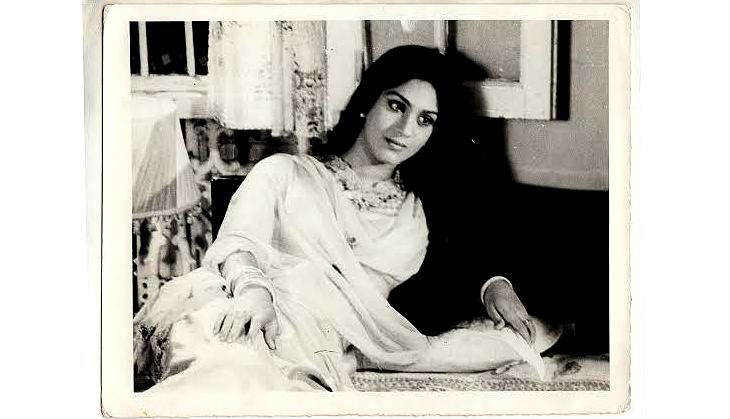 This soft and dreamy black-and-white picture, one of my favourites, was shot 28 years ago on the sets of Shashilal Nair's film, Parivaar (IIRC).
I plead guilty to labelling Meenakshi Sheshadri an 'Ice Maiden' in a piece that I penned for Cine Blitz magazine after returning from the outdoor shoot of Hero (1983) in Ooty. She was polite to a fault, but after every shot would stay coolly aloof from one and all, big and small. She failed to live down the Ice Maiden label as long as she was in the film industry and many jokes were spun around it and her untouched-by-scandal reputation. But, being the sport that she is, she reminded me about it when we met again in 2015 after a span of 20 years and shared a ready laugh.
She asked me if she was still boring. I told her, "You were never boring. You were unique, and you still are."
Who else would be having a "shut eye" (her mom's quaint expression for sleeping) in the afternoon in the lunch break on the sets? No other star (or anyone else for that matter) has ever greeted me with the very formal 'season's greetings' on Diwali!
As a professional, Meenakshi was as disciplined and courteous as her frequent co-star Amitabh Bachchan. She never let me down on an appointment for an interview or a cover story.
Once, when I organised a cover shoot with Meenakshi, Padmini Kolhapure and Poonam Dhillon for a feature titled 'In Search Of An Eligible Bachelor,' Poonam and Padmini gabbed with each other and even exchanged notes on the clothes they would wear for the shoot, but Meenakshi, it seems, didn't get the memo. She, however, remained unflappable. Recently, when I spoke to her about this, she shrugged, "I was never insecure."
Now a mother of two (a 17-year-old daughter Kendra who is learning Korean and a 12-year-old son Josh) and a wife to an investment banker, Harish Mysore, in the USA, Meenakshi is into maintaining a life-spirituality balance and beams equanimity. And she is still one of the finest persons I have known in the film industry. When we caught up last year, I realised the last sliver of ice seemed to have melted too.
-- Sourced from Dinesh Raheja, Bollywood News Service