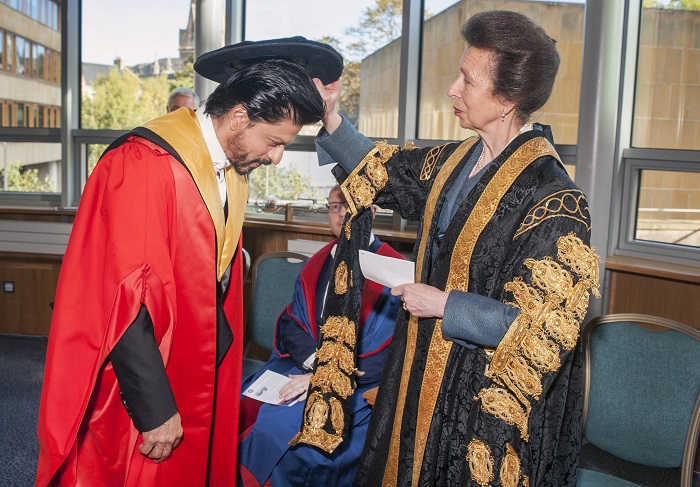 Shah Rukh Khan is an Indian superstar who enjoys a loyal fan following across the globe.
Well known for his acting prowess, the King Khan is also known for his journey from an ordinary man standing at Bandstand in Bandra with a dream to buy a house to becoming one of India's biggest superstars.
The actor has been a part of over 80 films. Besides his cinematic inclinations, Khan is also involved in various humanitarian and philanthropic works. Khan was invited to speak at Edinburgh University, where he received an honorary degree of Doctor Honoris Cause from the prestigious institute.
The actor, who is known for his wit, entertained and inspired students with his speech. Excerpts from the speech:
"Live now. Live today. You may not see it with your youthful eyes, but Now is as much time as you will ever get. Because tomorrow we will all be dead. And just in case there is no cycle of rebirth etc.why take a chance?"

"I don't want to end this on a cynical note by reminding you about the reality of death. I want to let you all know that how important your today.your now is."

"Study hard. Work hard. Play harder. Don't be bound by rules. Don't hurt anybody and never ever live somebody else's dream. Remember however many times you go wrong, no matter how many times you fail, despair, feel like this world is against you..in the words of Bob Marley.at the end everything is gonna be alright. And in my words. "Hindi filmon ki tarah life mein bhi, anth mein sab kuch theek ho jaata hai. Aur agar na ho, toh woh anth nahi hai.picture abhi baaki hai mere doston."

"Take it as the only truth you need to know. Take it and believe it because the most unlikely person to make it to Bollywood is telling you this. The most romantic hero who doesn't look anything like chocolate or taste like it."
"Now all you bored professors out there in the first row, come on up: let's do the Lungi Dance," Khan teased.