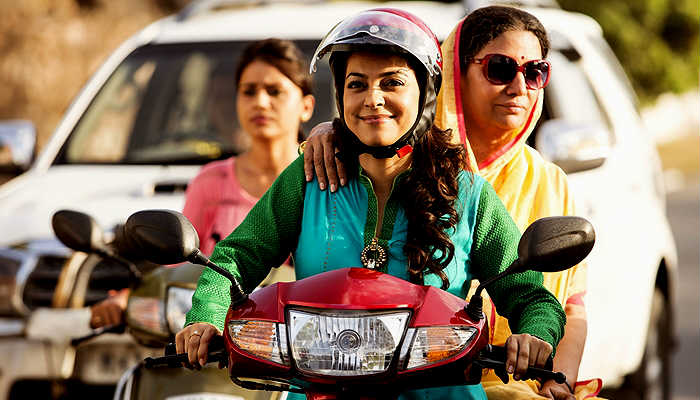 Ratings: 1. 5 (out of 5)
Highs
* Intentions, Shabana Azmi
Lows
* Poor knowledge of craft, storytelling* Painfully dumbed-down writing* Juvenile performances
A film about teachers in India, I thought. Finally.
Maybe it'll bring back memories of my first-grade teacher who loved munching on peanuts, or my eccentric ninth grade math professor who refused to use blackboards. Maybe I'd finally see that they were regular humans with families, problems and job politics. And maybe I'd finally discover what they spoke about in staffrooms. Maybe not.
Textbook Plot
Instead, Chalk n' Duster is designed as a kindergarten representation of the primary schooling system. Or, namely, KantaBen High (okay, I added that 'High') - where a very cruel principal named Kamini (of course), essayed by a perpetually important-faced Divya Dutta, makes it her life's mission to make hers an elite star school for rich snobs. We know she's villainous because her hair is short and she dresses fashionably.
Superficial Characters
For this, she plans to kick out the 'old-fashioned' teachers (Juhi Chawla, Shabana Azmi - as sisters) by becoming an evil stepmother to their Cinderella life. These are teachers who teach math by singing "the fear of algebra is none; when you learn it it's full of fun!" or the lyrically satisfactory BODMAS song ("Once you know values of X and Y, I promise you will score very high"). The kids answer in hand-waving rhymes too. Imagine if they tried this with their real-life teachers. Pasting, I tell you.
Also, Miss Chawla's software engineer husband (Sameer Soni) speaks in computer similes to demonstrate mild chauvinism ("You are the CPU, I'm the hard drive and your job is the RAM")
Idiotic Villains
Anyhow, K-K-Kamini is in cahoots with the equally evil-faced "MBA return heir" Arya Babbar, who spends time twirling his moustache, acting in Whatsapp emoticons and spelling out master plans to accented competitor Jackie Shroff (special role, as compared to Rishi Kapoor's "Above All Special Role"). His pinned 'Suits Suck' button adds all the more to his silly douchebaggery.
When an ailing Miss Azmi and Miss Chawla find an unlikely ally in Bhairavi (Richa Chadha), a Gujarati news anchor (clue: dhoklas on her news desk), the final showdown is decided through - wait for it - a KBC-style nationally telecast Quiz contest. Rishi Kapoor, the celebrity anchor, has some fun here, having to condescend through 10 questions.
Facile Production Design
Naturally, the professional teachers' pre-quiz preparation consists of a montage in which they read on desks with Oxford dictionaries and General Knowledge books. Student video testimonials are limited to kids nodding their heads sagely and saying, "We have forgotten our teachers." The term "noble profession" is rammed down our throats in school premises that resemble hospital corridors. Oddly, the ICU of the hospital later resembles a converted canteen.
This is all after Miss Chawla announces on TV that teachers get paid a princely 4.25 rupees/sheet to correct papers and Rs. 25 to supervise board exam sessions.
These are alarming numbers, which deserve to be addressed by a more competent film. I'd say it's difficult to go wrong with actors such as these. But stranger things have happened in this social-message-screaming, Hirani-cloning Bollywood genre.
For now, Divya Dutta's 'Rosy Miss' and Divya Jagdale as Mrs. Iyer in Amole Gupte's 'Stanley Ka Dabba' remain the only recent on-screen teachers that invoke vignettes of my school days.