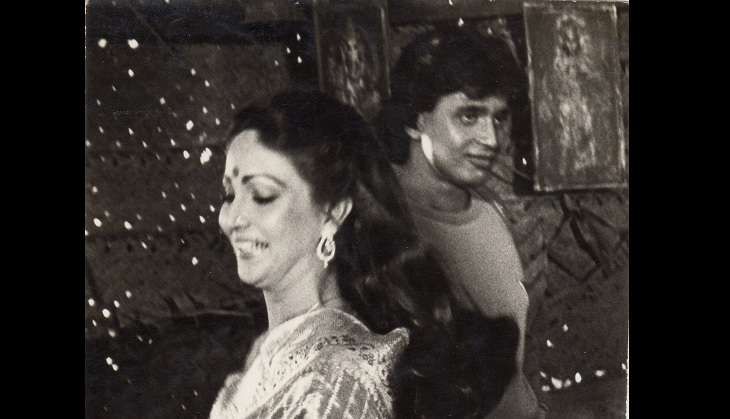 I shot this picture of Rati Agnihotri at Film City in the mid '80s. I was doing a feature with Mithun Chakraborty (who can be seen in the background in the picture) called '48 Hours with Mithun' and he was shooting with Rati, one of his favourite co-stars, on one of the two days I spent with him.
A review of the Rati Agnihotri-Kamal Hassan smash hit, Ek Duuje Ke Liye that I had written as a reader for the magazine, Cine Blitz, won me the grand prize of Rs 150 and a job in the magazine too!
Soon after joining, I was commissioned by Gertrude, the deputy editor of Cine Blitz, to interview Rati at the far-off Filmistan Studio in Goregaon. I was seething mad because I had other plans for a balmy, lazy Saturday. But when I met Rati, we got talking like long-lost college friends. She was intelligent, well-mannered and pretty, and entertained me despite no prior appointment.
Rati Agnihotri with Mithoon Chakraborty (Photo By Dinesh Raheja)
Rati was an extremely popular heroine those days, yet was unfailingly amiable. Since she was my photographer friend Rakesh Shrestha's favourite muse, we would end up meeting regularly. Before the advent of Sridevi, one wondered which heroine it would be who would climb to the top of the heap. I penned a comparative piece between competitive contemporaries, Padmini Kolhapure and Rati Agnihotri, in the mid 1980s, and within days of the piece being published, I met both Padmini and Rati at a party. Padmini thanked me profusely because she felt the piece was tilted in her favour; so when Rati headed towards me, I presumed it was to give me a piece of her mind. To my pleasant surprise, she congratulated me on a fair and unbiased comparison.
In 2004, I pulled off a coup of sorts when I got Amitabh Bachchan and Aishwarya Rai to agree to jointly release my book, Indian Cinema -- The Bollywood Saga (co-authored by Jitendra Kothari). However, I needed a star compere to make the evening even more magical. By then, Rati had returned from a 15-year-long self-imposed, post-marriage sabbatical. I approached the actress tentatively... and to my delighted surprise, she instantly agreed. When I told her that there would be no fees, she laughed and said, "Come on, Dinesh, this is the least I can do for a friend."
On the day of the book release, I was as edgy as a cat on a hot tin roof because I had to deliver a speech. Rati promised to stand next to me for moral support. Midway through the speech, she noticed a tremor in my voice, and quietly slipped her hand into mine and squeezed it tight. The speech went off like a dream thereafter.
-- Dinesh Raheja (Editor - Bollywood News Service)