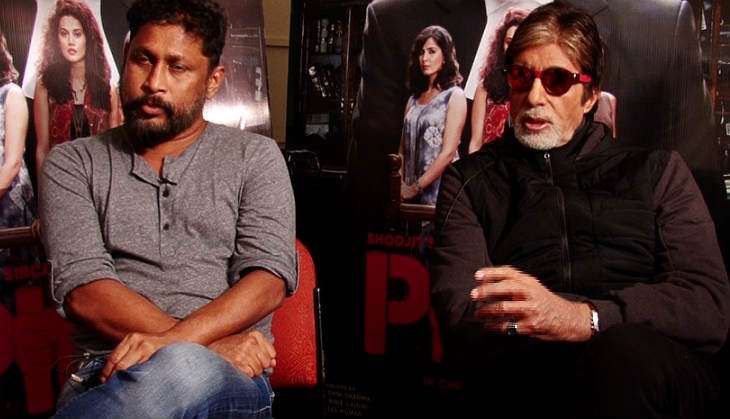 The Amitabh Bachchan-starrer Pink has been released and as expected, is lapping up accolades. Produced by Shoojit Sircar, the film has been directed by Aniruddha Roy Chowdhury and also features Taapsee Pannu, Andrea Tariang and Kriti Kulhari in pivotal roles.
In a recent interaction with Catch, Amitabh Bachchan and Shoojit Sircar spoke about what Pink really is about, how Sr Bachchan reacted to the script and a lot more.
Excerpts:
Pink seems like a film on women's empowerment. How important is it for you to present the film in such a manner that it entertains the audience as well as imparts a message?
SS: Cinema's job is to entertain people. Even when I made a film on constipation, I made sure that I am entertaining you. It is the same with Pink. This is not a film about women's empowerment at all. It is a film that presents the story of three girls, which takes place in Delhi. It's a thrilling film and I can assure you that for two hours, you'll not be able to get up from your seat. This is a guarantee that I've not given you in my earlier films.
"You are a woman of questionable character". Pink has you saying this in a rather aggressive tone. What is this questionable character? And why does a woman's character come into play every time?
Big B: You'll have to watch the film to know what this is. It's part of the court's procedure and the language used is the one used by a lawyer. It (the scene) is in the court of justice in the presence of an honourable justice. It (the scene) is set in the consequences of what the lawyer is there for. All I can say is that it (the dialogue) is very relevant to that moment.
If megastar Amitabh Bachchan is in the film, the audience sort of expects that he is the focus of the story. How do you balance out the fact that Mr Bachchan's stardom doesn't overshadow the film's subject?
Big B: I don't believe in this. I am just another character in the film. The moment you start giving a legendary status to a character in a film, and not paying enough attention to the story or the screenplay, you're making a very big mistake. I don't want to take names but there are endless number of films that have done this. Unfortunately. And suffered. I think the story is the most important thing. Whether an actor who has been chosen to deliver (performance), delivers that or not, is important. Important is the fact that whether a director is satisfied with his vision he has (in making the film). This is not going to happen in Pink. In fact, I keep saying this all the time that you'll be able to see more of these newcomers in the film.
Quick firsts:
First memory of the film you watched in a theatre?
Big B: I watched a film called The Flying Deuces which is a Laurel and Hardy film.
The first crazy fan incident you encountered?
Big B: There was a fan who sketched my face with his own blood. And I reprimanded him for that. And he said, nahi nahi ye toh kuch bhi nahi hai sir, abhi main full figure (sketch) karne vala hun. That's wrong. I would never ever propagate that. I would, in fact, never accept something like this.
First thing that came to your mind when you saw yourself on screen for the first time?
Big B: Not only the first time, even today you see yourself on screen and you keep looking at all the mistakes and faults you've made (in your performance) and how you're going to repair it now.Things like why the heck did I do it, why didn't I do that come running to your mind. I should have done it, I shouldn't have done it. Can we repair it now? These are some of the things that we notice when we see ourselves on screen.
To Shoojit: What was Mr Bachchan's reaction when you first proposed the script of Pink to him?
I just proposed the idea of the film and why we want to do this film. And sir was convinced that yes, we should talk about this subject.