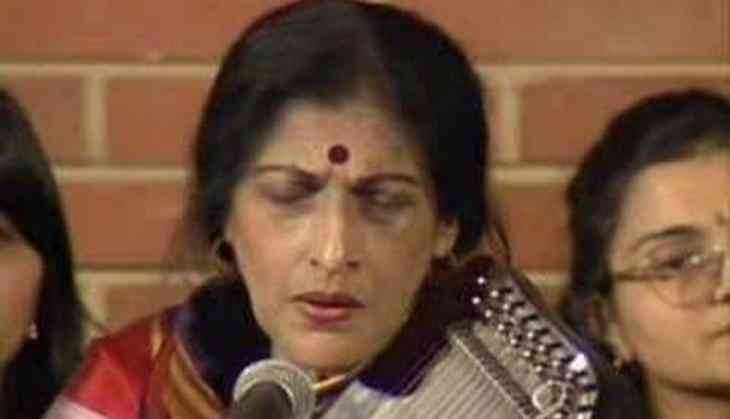 Bollywood celebs mourn classical singer Kishori Amonkar's death
Bollywood celebrities including Shabana Azmi, Vishal Dadlani, and Lata Mangeshkar have mourned the death of renowned classical singer Kishori Amonkar, who passed away here shortly before midnight on Tuesday.
She was 84 and breathed her last at her Dadar West home.
In her singing career spanning seven decades, she was revered as 'Gaan-Saraswati'. Belonging to the Jaipur Gharana, she was conferred the Padma Vibhushan and Sahitya Akademi Award among many others.
A widow, she is survived by two sons and grandchildren.
Here is what Bollywood celebs had to say:
Lata Mangeshkar: Mujhe abhi abhi pata chala ki mahan shastriya gayika Kishori amonkar ji ka swargwas hua,ye sunke mujhe bahut dukh hua.Wo ek asaadharan gayika thi. Unke jaane se shastriya sangeet jagat ki bahut haani hui hai.Ishwar unki aatma ko shanti de. (It was saddening to know that renowned classical singer Kishori Amonkar passed away. She was a special singer. It has been a major loss to classical music. Rest in peace.)
Shabana Azmi: What a loss...Have been her ardent fan and consider myself fortunate to have lived in a time I could here Kishori Amonkar sing.
Madhur Bhandarkar: Sad to know the demise of #kishoriAmonkar doyen of Indian classical singer, singer performersher music will remain immortal through her songs. #OmShanti.
Kailash Kher: Onesinger-performersof classical has left this world for her heavenly abode. An institution of music. RIP Kishori Amonkar.
Vishal Dadlani: RIP the legendary Kishori Amonkarji. The world of music dims without her light.
Ashoke Pandit: Sad to know that Kishori Amonkarji is no more. An institution by herself. The world of music will miss her. Respects. RIP.
Salim Merchant: Kishori Amonkarji has departed...Her music is immortal and will continue to influence generations. She is our Bharat Ratna! Will miss her.
Shweta Pandit: Gaan Saraswati Kishori Amonkarji your voice, your hard work, your devotion...Rest in peace.
-IANS