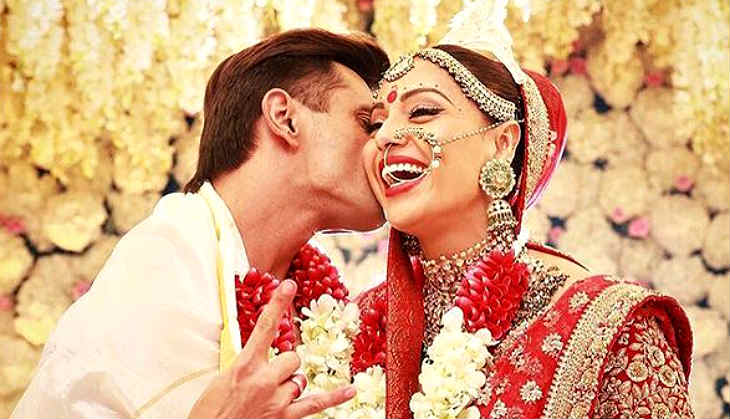 It's been a few months now that Bollywood saw one of its happiest star weddings -- Karan Singh Grover and Bipasha Basu's wedding.
The newlyweds always have so much to talk about each other and their relationship. Recently, when Bipasha was asked about her relationship with her husband Karan and the acress had much to share. Here's what she had to say about:
The most important part of her relationship with Karan:
"Respect, honesty and faith in each other are very important for a long-term relationship. Karan and I are brutally honest to each other. Sometimes, situations are awkward and things are inconvenient, but we are truthful. That's a pact we have kept between us. What makes a relationship work is our 'friendship'. You have to be great friends to be great companions. You have to realise that you aren't just living for yourself but for two people. It is only when you are selfless that you can have a great relationship."
Her belief in the institution of marriage:
"I have always believed in the institution of marriage, but not to the extent that a woman is only defined by it or that marriage is her ultimate destination. I have grown up seeing a wonderful relationship between my parents, and have always aspired to have that kind of bond with my partner. Also, my sisters and I were always told by mum and dad that we were free to choose our soulmates. I fortunately chose Karan and he reinforces my belief in marriage."
How Karan is as a partner:
"With Karan, I don't need anybody around me. We never get bored even when it's just the two of us. We have the best time together. I have never had a relationship where I am so much at peace in the company of my partner. I don't need friends around me all the time to feel needed, loved. Karan respects everything about me ­ my being, my independence, the person I am, the work I have done and, most importantly, my family. He makes an effort to understand every little thing about me. Whatever my checklist is, Karan simply ticks off all the boxes. He surprises me in little ways every day so I have definitely got more than I have ever wanted."
One thing Karan finds annoying in her:
"According to him, I am anal about everything. I am extremely particular when it comes to cleaning, planning and organising. He is kind of easy going. But lately he is trying to please me by being meticulous about things that bother me. As long as I am happy, he will do it. He does make fun of me later, when I am in a relaxed mood. But as long as my things are done, I don't care much."
-- quotes from Times Life