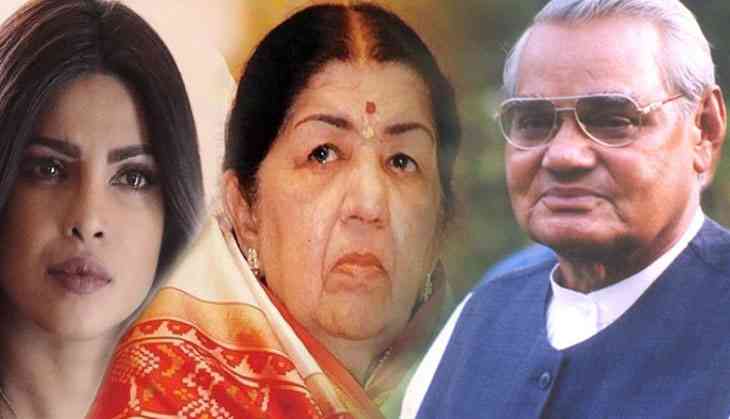 Our country's one of the biggest and renowned public figure Atal Bihari Vajpayee left everyone in deep pain on 16th August. He took his last breath at Delhi's All India Institutes of Medical Sciences at 5:05 pm. He has been hospitalized in AIIMS from 11th June and his health only deteriorated in the last 36 hours. He was kept on life support systems in the hospital.
The medical bulletins released by AIIMS has clearly stated that there is no sign of improvement in his health condition on 16th August and finally at 5:05 pm he died.
Atal Bihari Vajpayee was also a famous orator and has remarkable poems written under his name. Not only politicians and common people, Bollywood celebrities too are huge fans of his remarkable collection.
He was a great statesman and the BJP stalwart among the masses. He was born on 25th December 1924 in Gwalior. He had been jailed during the time of Emergency (1975-1977). In 2015, Atal Bihari Vajpayee has received Bharat Ratna, which is considered as the highest civilian award of India.
The death of Atal ji has left a void in politics of India which cannot be filled easily. Even Prime Minister Narendra Modi broke down over the demise of the former PM and said that 'he lost his father'. He also shared several tweets for him and also gave a brief television speech for Atal Bihari Vajpayee.
#WATCH: PM Narendra Modi speaks on the demise of former Prime Minister #AtalBihariVajpayee, says,"India has lost its 'anmol ratna'." pic.twitter.com/yPOMB9spOU

— ANI (@ANI) August 16, 2018
Bollywood industry is also saddened over the death of the 93-year-old leader and posted an emotional messages for him.
Check out tweets of B-town celebrities:
Former Prime Minister Shri #AtalBihariVajpayee's visionary ideas and contributions for India were truly remarkable. The nation will always remember... #RIP
My thoughts and condolences to the family.

— PRIYANKA (@priyankachopra) August 16, 2018
He was a rare statesman. #RIPAtalBihariVajpayee 🙏🏻

— Ayushmann Khurrana (@ayushmannk) August 16, 2018
It is rare to find love and respect across the entire politcal spectrum.

Atalji, was the rarest of them all.

Alvida #AtalBihariVajpayee.

— Boman Irani (@bomanirani) August 16, 2018
Indeed a big loss for our country as we pay our last tribute to #AtalBihariVajpayee ji. He was a close family friend and his legacy will forever be remembered. Thank you for your selfless service, sir! My heartfelt condolence to everyone.

— Sanjay Dutt (@duttsanjay) August 16, 2018
"Let no one challenge India's secularism." - Atal Bihari Vajpayee #Salute #Respect
Growing up in India in the 1980's and 90's one can never forget what a deep impact #AtalBihariVaajpayee ji made on us... he was a great statesman and leader. #RIP

— Dia Mirza (@deespeak) August 16, 2018
I'm saddened to hear the demise of a great statesman Shri.Vajpayee ji. May his soul Rest In Peace.

— Rajinikanth (@rajinikanth) August 16, 2018
Rishitulya purva pradhan mantri Bharat Ratna Atal Bihari Vajpayee ji ke swargwas ki vaarta sunke mujhe aise (cont) https://t.co/1w1sEjs1eB

— Lata Mangeshkar (@mangeshkarlata) August 16, 2018
Watch Video:
Also read: PM Modi break down over Atal Bihari Vajpayee demise and says, 'Lost a father figure today'; see video