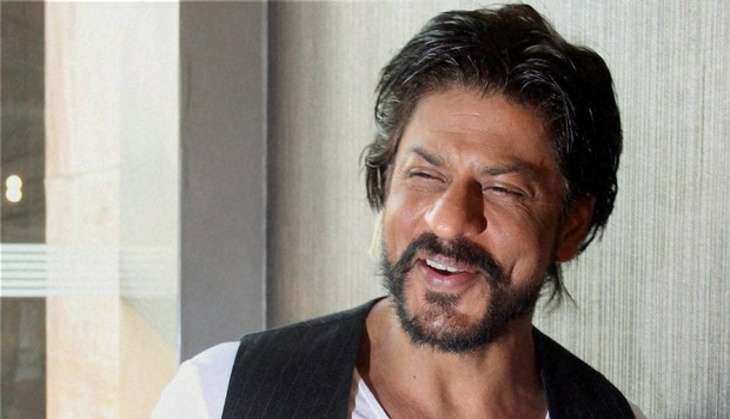 At the launch of author Samar Khan's book 'SRK - 25 Years Of Life,' the actor paid rich homage to his many directors and spilled the beans on his quarter-century-long journey in Bollywood.
Shah Rukh on his beginnings
25 years have gone by in a flash. When I was rank newcomer, I was an odd- looking boy, I spoke too fast and I was not from a film background. Yet they gave me an opportunity.
Who gets an opportunity to sit across the Dreamgirl (Hema Malini) and hear her tell you: 'I like your nose, it's very autocratic; you are in my film (Dil Aashna Hai, 1992).' I couldn't believe that the nose which I would try and hide was liked by Hema Malini! Kundan Shah and I worked together in TV and films (Kabhie Haan Kabhie Naa) and I was living in his house -- he had allowed me to stay in the back office. The first time I had Gujarati food was when his wife Bakul served me a meal.
They all looked after me like their child. Not one of them made me feel: 'I am giving you a break' and I have learnt this from them."
Shah Rukh on being a director's actor
"It wouldn't have been possible to be where I am right now without my directors. My life has been defined by my circumstances, my experiences and of course a lot of directors. Kundan will tell you he is an awful actor. But they are like my father figures, mentors and guides. Each criticism, slap, and anger of theirs, I hold very dear to my heart. Whenever I don't know how to do something, I just fall back upon the people I work with. I do my best, listen to the instructions and I do not analyse."
"I have never analysed whether my characters come from a part of me or have I become a part of this act. I had said this to somebody once, 'I don't know ... do I cry like Devdas or does Devdas cry like me?' I believe film is a director's medium. You have to believe in the director and you have to believe in yourself as an actor. I find it wrong when actors declare, 'My character won't say these lines.' But he is your character; you are making him or her! So I can do anything -- if somebody tells me to do a somersault during an emotional scene I will do it. I will make it believable because I am an actor."
Shah Rukh on art and artiste
"When I was small, my mother was very social and met everyone... I noticed that she used to become like the person that she was talking to. That's what it should be. As an actor I should be like the song from Manoj Kumarji's film which I take very close to my heart - 'Pani re pani tera rang kaisa, jis mein mila do lage uss jaisa.'
I truly believe the art is important, the artiste is not. Rahul, Raj and the other characters will survive ... main toh nahin rahoonga. More than me people on social media know how much business films have done. However much we try to remain untouched by these things, somewhere they remain in our minds.
You are in the filmmaking industry so the business stays in your head. But I still like to believe that whenever I have got the chance to do a Fan or Chak De India, I have said 'Yeah, of course!' Sometimes, the limitations also come from the people who are making films.
Lot of people will cast me in their films and say, 'Why should we make it off-beat, let us make it commercial.' I am not blaming them; it's a good thought. Agar main bikta hoon toh bikna laazami hai. But, having said that, I have tried to maintain some kind of balance."
Shah Rukh on the future
"It's been 25 years now. Physically, I am still there for another 10-15 years and mentally I am all there. I am a little lost because I have done 60 odd films so far and you feel 'I have done everything'. But then there are nights when I get up from bed and say 'Abhi toh kuch bhi nahi kiya.'
I don't know what to do next. I just hope somebody comes up and says, 'Shah Rukh I don't think you can do this but let's get together and push the boundaries. Let's go on a journey together and see if it succeeds and if it fails at least we tried something new.' It's always better to fail while trying something new than succeed with the tried and tested. I do a commercial film once a year to let the company run and if I don't use the other time to be able to do something new....
"I am in a strange place -- as a movie star when I do a commercially viable film people say 'Yeh toh bik gaya, ye acting bhul gaya.' When I do the other kind of film, then a section of people says, 'Iski stardom khatam ho gayi.' I may not believe either of the two but, but it plays on my mind. I am just trying to work on my cinema but I can't work on it alone. Fortunately, people have faith me."
Ami Sheth, Bollywood News Service