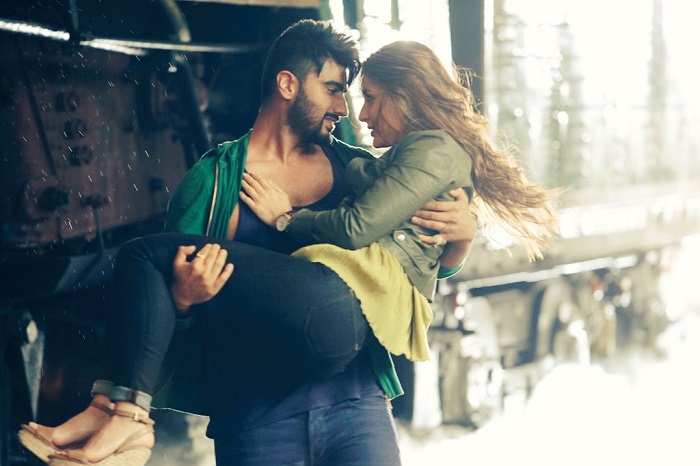 Rating: 1.5/5
Ad-man R. Balki\'s fifth feature film
Designed as a new take on the institution of marriage
Fails, in every way possible. Multiple times.
Most of us have come across that one chap who insists that Humshakals is superb cinema. That one chap who maintains that The Godfather is overrated. That one Indian kid who claims to detest cricket. That one chap who believes that Sadagoppan Ramesh was greater than Sachin Tendulkar. Okay, maybe not that last one.
But you know what I mean - that one transparent soul who goes against the grain for the heck of it, the stubborn contrarian, the forcibly subversive rabble-rouser, the mouth that quotes Nietzsche to explain the existence of Rajpal Yadav. The look-I'm-unapologetically-different spirit, and, to be fair, some have reasonable mumbo-jumbo to back their stances. But if you inform an animal-loving fur-coated vegan about the math not quite adding up, you'd get a blankness deader than Arjun Kapoor's eyes in response. They won't admit that they're being the way they are because others are not.
Ki & Ka is the sum total of all these aimlessly unorthodox chaps, all the attention-seeking lovers and unfocused haters.
Also read: Ki and Ka: Here's how we think the Arjun Kapoor, Kareena Kapoor film will fare at the Box Office
I've never come across a movie and its characters trying so desperately hard to stand out because liberalism is the need of the hour. They stopped inches short of climbing a pyramid and screaming into a megaphone that Novak Djokovic must apologize to Serena Williams for discouraging equal pay in tennis.
Mind you, Kia (Kareena Kapoor; groan) and Kabir (Arjun Kapoor; grunt; had to do a mental Bollywood-family-tree check to confirm they were unrelated; these star sons and daughters, I tell you) are not naturally forward thinking or unconventional. They are - and you'll sense this at every second of every minute - because their director (R. Balki; husband of Gauri Shinde) insists that they are. And perhaps even because the director (Cheeni Kum, Paa, Shamitabh - see?) once again mistakes innovation with progressiveness, and confuses filmmaking for Bible-making.
He makes his couple almost act "special", which sort of beats the purpose if you're trying to propagate a certain way of thinking. Look at the way his wife's film, English Vinglish, deconstructed Indian gender stereotypes without compromising on rooted realism. Or the way Dil Dhadakne Do didn't really dwell over the drifter-brother (Ranveer) and alpha-sister (Priyanka) characters.
The disconnect begins as soon as the 28-year old pillar and 31-year old building (their metaphors, not mine) kick off their courtship. They converse as if Kanye West put a gun to Aaron Sorkin's rat-a-tat head and forced him to write a 'hat-ke' rom-com instead. Only, this time they're not in Corsica pretending to be someone else. They're in India, as themselves. At no point does it feel that she falls for him for who he really is. (He's a pretentious jerk, but that's not the point.) She seems curious about him the way a dog suspects a sweet-smelling butthole. The whole of their marriage looks like a kinky roleplay session that never really ends. I kept wondering when Kabir would snap out of it, grin at us (April 1st and all) and rip off Kia's dominatrix getup.
Also read: Kareena Kapoor on Ki and Ka: 'Why all this talk about kissing on screen? Don't married couples kiss?'
It didn't disturb me that they were essentially reversing the concept of gender politics, or that the man was being a vacant pseudointellectual. It disturbed me that they were being so cloyingly smug about it. It annoys me that he rode a Segway instead of a pink scooter; that he was either a celebrity cook or garish interior designer; that he obviously wore the mangalsutra as a bracelet; that she did everything short of scratching her crotch and farting (she even rides him first time, and sad-reminisces about him serving her coffee) to demonstrate the futility of patriarchy.
And, oh boy, there's this toy train with tracks sprawled across the sordidly designed (because, we're cool like that) Delhi flat. It carries food and drinks from the kitchen to the living room and bedroom, and is constantly on the go. How does anybody sleep? Why does it smoke? Is it a mobile microwave and freezer too? Why is nobody taking selfies? Why is Arjun Kapoor? Why does their house look like Tim Burton's brain? Be that as it may, Ki & Ka is hipster assassination of the highest order.
Usually, R. Balki has some decent scenes to make up for his gimmicky ideas. But the terms 'househusband', 'mard' and 'aurat' are so overused that her mother's vaguely sensible provider-caretaker speech doesn't matter anymore. It doesn't even matter that the absurd camerawork (P.C. Sreeram; dizzy close-ups/tracks of both faces) is just another attempt at renegade idiocy.
It doesn't matter that Kareena's 'chauvinistic' meltdowns rival her 'Heroine/MPKDH' ham-fests, or that Kabir's social-media-legend status and Kia's rise up the corporate ladder is handled with the subtlety of an Airtel 4G ad (the ad-man in Balki can't resist shameless product placement, so why not?) There's also a moronic best-of-5 pregnancy-test sequence that is best left unexplained. And an Amitabh-Jaya cameo that is more ironic than the idea of an Amitabh-Jaya cameo. Not to mention an angry-sex session that cuts to an extravagant Dubai fountain when too much skin appears. CBFC, you naughty Ka(s). And Ki(s).
And again, there's that damn toy train. The one that never stops. Ever.
Ever.
Also read: Kareena Kapoor: Salman Khan started the bodybuilding trend in India & Bollywood followed