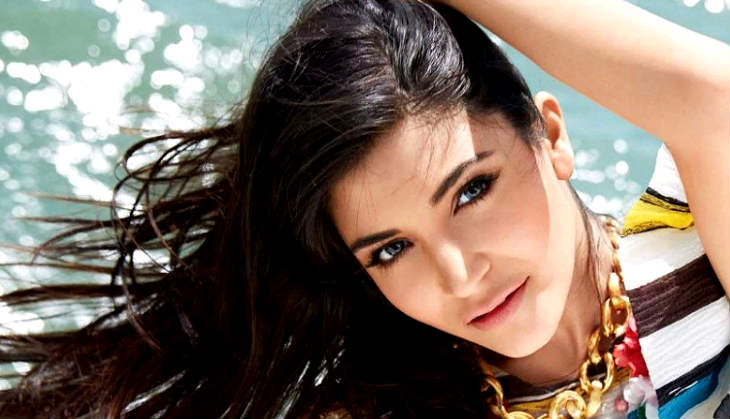 She is gutsy. She believes in speaking her mind. And she doesn't mince words while she is at it. She is Anushka Sharma, whose choice of films are indication enough that she is here for the long run. Whether a PK or a Bombay Velvet or NH 10, her characters on screen have reflected her independent streak.  
Currently busy shooting for her next home production, Phillauri, with Diljit Dosanjh, Anushka Sharma has also featured on the cover of Vogue India, May 2016 issue. Styled by Anaita Shroff Adjania in black, Anushka on the cover justifies the caption -- Daring, Darling and Unscripted. 
The glossy also features a candid interview with the actress where she has spoken about her fearless self, her family and why she prefers photographs above paintings. Excerpts: 
On living with family:
"It's a good setup. While I'm living with my parents, I still have my apartment. We are a close-knit family, so staying together is the best feeling. When I'm not shooting, I love spending time at home, talking to my parents, playing with my dog (a frisky Labrador named Dude) and just watching shows like Brain Games with my dad."
On being a producer/ director: 
"People asked why I was doing it in the prime of my career. But we only say this about actresses because we assume that they need to do it to find work towards the end of their careers. I'm not into production to make films that glorify me or to replicate films that have worked at the box office; I'm doing it because I want to create quality cinema."
On awards:
"I genuinely don't believe in awards. It's rewarding enough that a film like NH10 (2015) got the response that it did, and that because of its success I'm now producing a film with Fox Star Studios, which is funny, romantic and poles apart from NH10."
On her choices: 
"My characters are wildly different, but they have one thing in common - most of them are that of an independent, successful, working girl. I pick a film that has a strong plot. I'd never pick one to piggyback on a big actor or director's name. I'm not a product of how people want to see me and how I should be or ought to be. I am what I am. I've never done anything just because it has worked. I love taking risks and following my conviction."
Check out the full interview here.