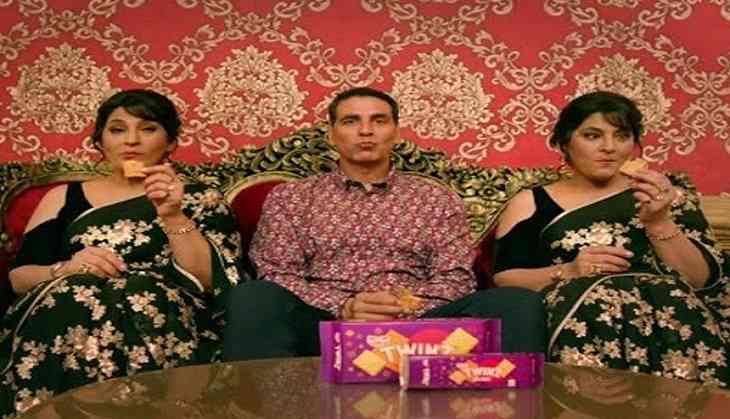 Leading national bakery brand Anmol has launched a TVC for their latest product 'Twinz', a butter cracker. The TVC stars actor Akshay Kumar, along with Archana Puran Singh portraying a married couple.
Both the actors, known for their excellent screen presence and their comic timing, make this TVC a fun watch. The TVC has successfully portrayed the uniqueness of the product with elements of humour and surprise.
The sugar and masala sprinkled butter cracker is a perfect snack, which can surely win favour with all age groups. The TVC does complete justice to the product tagline i.e, 'Anmol Twinz - Taste Mein Naya Twist'.
Ever since it made its entry on digital platforms, the TVC has been receiving massive traction and love from the audience. The idea behind the TVC along with their performances have been well received by everyone.
Akshay Kumar and Archana Puran Singh have also promoted the TVC on their personal social media accounts. The unexpected yet hilarious twist, in the end, is a massive hit with the audience.
The product is a butter cracker, with a unique taste of sugar sprinkles and masala. The ingredients, though contrasting in nature, add an element of novelty to the product. The unique taste of Anmol Twinz promises to provide an irresistible snacking experience.
Speaking on the TVC, Bimal Kumar Choudhary, Managing Director of Anmol Industries Limited, said "We are very proud to launch Twinz to our progressive consumers. We believe its unique yet mouth-watering taste is going to be a hit among them. The TVC starring Mr.
Akshay Kumar alongside ace actress Archana Puran Singh will surely strike a chord with the audience. The consumers are always looking for something new and that is what we strived to achieve with the product. The idea and execution of the TVC is on point and brilliantly showcases the USP of our product."
Anmol Industries is a leading FMCG brand in India. It is a branded packaged food company, with an established brand presence across the country. Their diversified product portfolio includes 61 varieties of sweet and healthy biscuits and 26 varieties of cakes. This vast product line up caters to different taste preferences and age groups.
( NewsVoir )