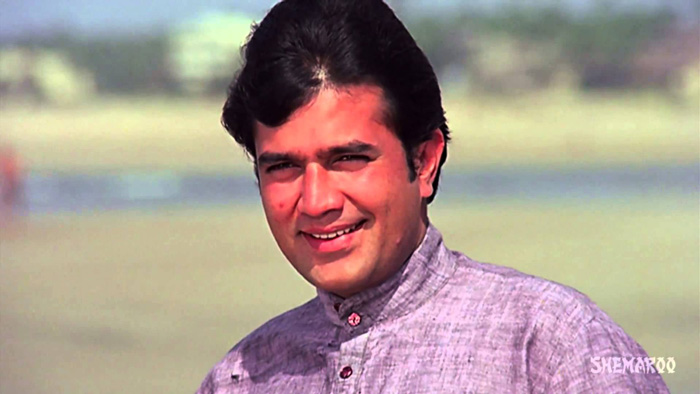 It has been three years since Bollywood's first ever superstar Rajesh Khanna passed away.
Acknowledging his great cinematic presence, a collection of memorabilia comprising his film posters, lobby cards featuring films he starred in are being put together in a grand show that pays tribute to the late hero.
Expressing the idea behind the collection, Sumant Batra, a museum curator and philanthropist said "He was a superstar who ruled over the hearts of the people. He was Bollywood's first superstar. From him the craze of super stardom arrived in the industry."
The showcase at the India Habitat Centre in Delhi will portray the many shades of Khanna as a Bollywood actor, film producer and politician who starred in 15 consecutive solo hit films in the period 1969 to 1971.
"During that period a lot of effort was put into promoting a movie. Since it was not the digital age film posters used to be hand painted by eminent artists like M F Husain and Babu Lal. Lobby cards and show cards with spectacular art work have been displayed in lobby of cinema halls and film song booklets sold outside the movie hall as memorabilia," says Batra.
The event 'Remembering Rajesh Khanna' is being co-organized by HarperCollins, publishers of the actor's biography - "Dark Star: The Loneliness of being Rajesh Khanna by Gautam Chintamani" that was brought out in 2014.
On April 30, 2013, the actor was officially bestowed with the title - 'The First Superstar of Indian Cinema' at Dadasaheb Phalke Academy Awards. A postage stamp, bearing his face, was released by India Post to honour him on May 3, 2013. On his first death anniversary, a bronze statue of Rajesh Khanna was unveiled at Bandra Bandstand in Mumbai.
"The exhibition will consists of about eighteen of the "original superstar's" film posters, two dozen lobby and show cards, two dozen song booklets and two dozen of vinyl records. I will also be showcasing the poster of his first film- Aakhri Khat, which people have hardly heard of along with the posters of his iconic hits like Anand, Aradhana, and Safar. One to watch out for is the Anand poster which according to me is a collector's item," says Batra.
Batra, an eminent lawyer and senior consultant to International Monetary Fund (IMF), World Bank Group says the exhibition not only pays tribute the late actor but also showcases the art of the hand painted poster. "Besides being his fan I am also a collector of rare vintage graphics be it cinema or any other genre. This exhibit is from my personal collection from my museum 'Chitrashala' in Te Aroha (Uttarakhand)," says Batra.
A rare vintage poster price range may vary between Rs 1000 and can go upto a minimum of Rs 8000. Batra says such film posters are in massive demand overseas and are also often auctioned.
"Indian restaurants and outlets in foreign lands often put up such posters as they play an important part of India's art history and its bustling film industry. These business ventures often buy these posters here in India," Batra explains further.
With inputs from PTI