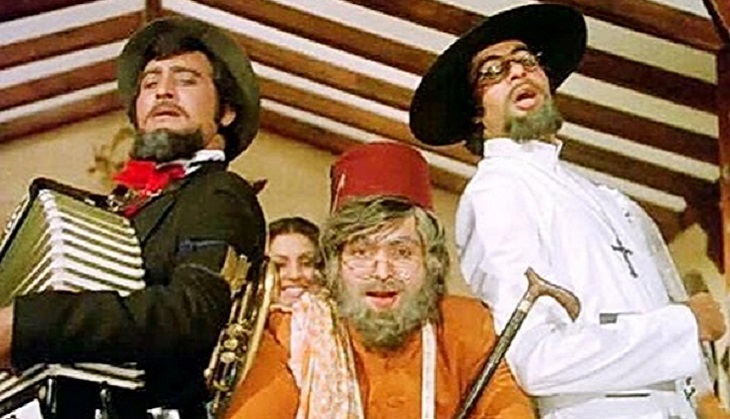 Amar Akbar Anthony is one of Mahanmohan Desai's most memorable films. It revolved around the reunion of three estranged brothers, Amitabh Bachchan, Vinod Khanna and Rishi Kapoor.
Initially, the film was ridiculed by critics. It was also panned for being 'unimaginative' and 'illogical'. However, happily, it went on to become one of the most memorable films of Bollywood.
Very few know that even the director, Manmohan Desai, was not too confident about Amar Akbar Anthony's fate. In one of his interviews, he mentioned that he expected the action entertainer to flop.
"Amar Akbar Anthony involved my minimum effort, labour and money. It was a fluke hit. When it was released, I thought it had good songs. But I never thought it would be such a success. I was sure Aa Gale Lag Jaa would be a super hit while Amar Akbar Anthony would flop," said Desai.
Also Read: #FlashBack: Salman Khan-Sanjay Dutt starrer Dus was never completed. But what was it about?
Do you know what inspired the director to pen the script of Amar Akbar Anthony?
In the early 1970's, there was a newspaper article about a father who left his three children at different places and committed suicide. 'What if the man did not kill himself?' was the question Desai asked himself, following which he jotted down the script of Amar Akbar Anthony. The concept of three children being adopted by people from three different religion is considered a masterstroke today and Desai's vision is lauded.
Amitabh Bachchan described Manmahon Desai as a genius who used to fool the audience with a lot of conviction.
"Manmohan Desai was the genius who had the audacity to tell the audience in the very first frame, 'I'm going to make a fool of you. I'm going to be illogical and you had better enjoy it'," said Bachchan in the 1980s.
Amar Akbar Anthony was initially planned as a 1975 release. However, due to the Emergency in India, the film got pushed to 1977. When the Emergency was lifted, Desai had four releases in 1977 i.e. Dharam Veer, Chacha Bhatija, Parvarish and Amar Akbar Anthony. All four managed to emerge huge moneyspinners at the Box-Office.
Also Read: #CatchFlashBack: When 'Who Is Aamir Khan?' trended in the era of no Twitter
Amar Akbar Anthony's shooting schedule was planned in such a manner that no two actors would have to shoot together. It was only the climax and the song 'Anhony Ko Honi' where Amitabh Bachchan, Vinod Khanna and Rishi Kapoor shot together.
Desai was a firm believer of the fact that making a commercial film requires a lot more research and brain than a serious hard-hitting film.
"Do they realise how much brains and money is needed to make my kind of films? I really enjoy what I'm doing... I'm on the sets all the time. I'm not the kind of film-maker who functions from the background. My attitude towards cinema is very serious. I'm involved with every department of film-making except photography. I rarely attend parties. I don't smoke or drink. My passion in life is film-making. According to critics, if you make anything escapist it isn't serious cinema. Only gloomy and dull films are serious! But my kind of films require lots of brains," Desai was quoted in the 1980's.
Also Read: #CatchFlashBack: Hum Aapke Hain Koun was so huge that these facts will blow your mind
Watch the title song of Amar Akbar Anthony here: