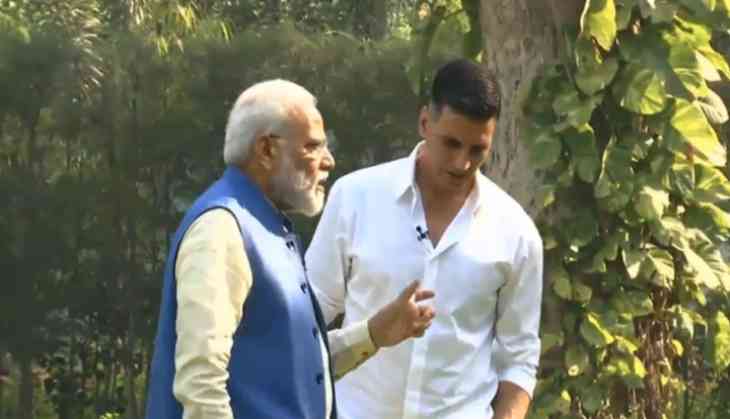 Akshay Kumar had a non-political chat with Prime minister Narendra Modi, and in this conversation, several things of their personal lives came out. In this conversation, Akshay also revealed to PM Modi how he controls his anger, and how he vents out his anger.
Akshay Kumar in an exclusive conversation with Modi revealed, Ek boxing bag ghar pe rakha hua hai, jitna ho sakta hai subah 4.30-5 baje maar leta hoon aur apna gussa nikaal leta hoon. Ya phir samundar kinaare chala jaata hoon aur zor se cheekhta hoon. Koi bhi nahi hota hai," (I have a boxing bag at home and I hit it out on it around 4.30-5 AM as much as I can. Either I go to beachside and shouts when there is no one around.)
This is how PM Modi manages anger

Read @ANI Story| https://t.co/fyhDEO0beB pic.twitter.com/cgiOyMdC7Z

— ANI Digital (@ani_digital) April 24, 2019
मैंने आपकी टॉयलेट एक प्रेम कथा नाम की आपकी फिल्म देखने के लिए लोगों को कहा था, क्योंकि वो एक सामाजिक मुद्दे पर बनी फिल्म थी।

हमारे देश में बीमारी सबसे बड़ा मुद्दा है और उससे बचने के दो ही तरीके हैं स्वच्छता और फिटनेस: पीएम श्री @narendramodi #ModiWithAkshay #BharatKaGarvModi pic.twitter.com/2LsqrS8u0T

— BJP (@BJP4India) April 24, 2019
In the conversation, Modi also revealed how he controls his anger. He told that he would write the whole incident in a paper sheet and then tear apart it. Through this way, the anger and emotions come out on a paper. However, he revealed that he has no time to write all those incidents that makes him angry so he has prepared himself to control his anger.
इतने लम्बे समय तक मुख्यमंत्री रहा लेकिन मुझे कभी गुस्सा व्यक्त करने का अवसर नहीं आया: प्रधानमंत्री श्री @narendramodi #BharatKaGarvModi https://t.co/HeuNy57wf8

— BJP (@BJP4India) April 24, 2019
PM Modi also revealed that he never thought of being PM of India any day. Modi told that he never thought of it and it never gets into the normal people. What he has the family background then if he would have a job only then his family would have been quite happy.
Also Read - Twinkle Khanna reacts to PM Modi appreciating her work, tweets 'Prime Minister aware that I exist'