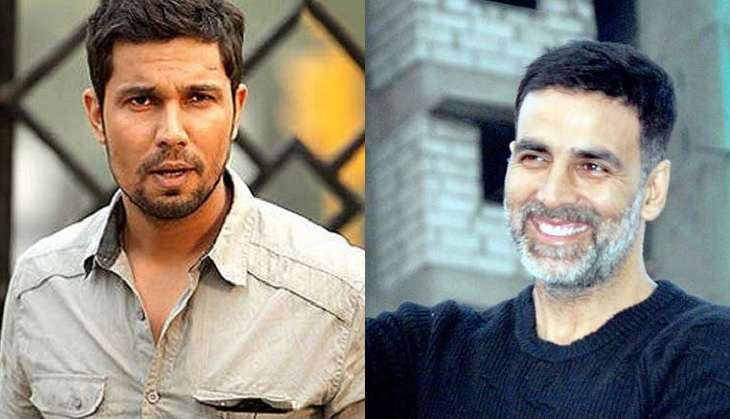 Randeep Hooda, Kajal Agarwal, and Deepak Tijori launched the second theatrical trailer of their upcoming film Do Lafzon Ki Kahaani on Thursday.
It has been touted as a romantic film with a mixed martial arts (MMA) backdrop. At the trailer launch event, director Deepak Tijor addressed the question whether his movie might be compared to Akshay Kumar's Brothers which has a similar background
"I think we were paranoid when the trailers of Brothers came out, so we did go to watch the film if it is actually similar to ours but after watching that film, I felt relieved as it is entirely a different ball game."
Randeep Hooda too was confident that their film is a typical commercial Bollywood love story as against Brothers which was out and out an action film.
"Brothers was all about fighting, our film is a love story. It has a universal appeal which a guy residing at all centres will relate to. I think we are safe from Brothers as our film has all elements of a commercial romantic film," said Randeep.
Akshay Kumar has been juggling between diverse film genre off late. Randeep Hooda believes that Akshay Kumar loves to evolve with every film which is a quality he admires the most in the superstar.
"The major difference between Akshay Kumar and me is that he is paid around 400 times more than what I am. Jokes apart, I think Akshay is one actor who has really evolved with every film, I think he is the most evolving actor of Bollywood. He had an action image but now he is choosing very good scripts. I look up to him as he is an actor who is always looking for growth," Hooda said.
Do Lafzon Ki Kahaani releases on 10 June 2016.