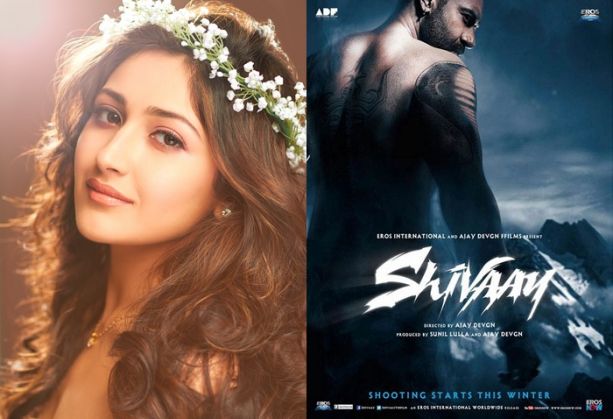 Dilip Kumar's niece Sayyeshaa, who is all set for a grand launch in Bollywood with Shivaay, told IANS in an interview that Devgn was a talented director. She said:
"Given Ajay sir's years of experience, he exactly knows what he wants from his actors. He has a knack for extracting the best out of his actors and that's what makes him an actor's director. He's a very talented director".
Also Read: British child artist Abigail Eames signs on to play Ajay Devgn's daughter Gaura in 'Shivaay'
Sayyeshaa said that acting and directing seemed to come easy to Devgn.
"A lot of people find it difficult to act and direct at the same time. It must be very challenging. Ajay sir is comfortable switching hats; he makes everything look so easy. The minute we shoot a scene, he'd run and sit behind the monitor screen to check it," she said.
Also Read: Ajay Devgn postpones Baadshaho for his directorial Shivaay
She also gushed about how organised the finds Devgn to be an organised director.
"There's absolutely no room for confusion on the sets. Ajay sir is a very organised person and it reflects in his work. Everything is planned well in advance," she revealed.
Sayyeshaa has bagged a plum role for her Bollywood debut.
"I've always been fond of Ajay sir. It feels so surreal to be part of his dream project and to be playing his heroine. I play a very different character," she said.
Also Read: Visit Shivaay sets through Ajay Devgn's photo-filled tweets!
The film is tipped to be an intense action-drama. On the action sequences, Sayyeshaa said:
"It was the first time I saw an action sequence being shot. The experience was amazing and it even got better when we shot for a chase sequence which included running and jumping. I wish I get to do some action, too".
Also Read: Before Bulgaria, Ajay Devgn to shoot for Shivaay in Mussoorie and Hyderabad
Sayyeshaa and the rest of the Shivaay team will soon head to Bulgaria, where shooting for the next schedule is expected to continue for two months.
- IANS