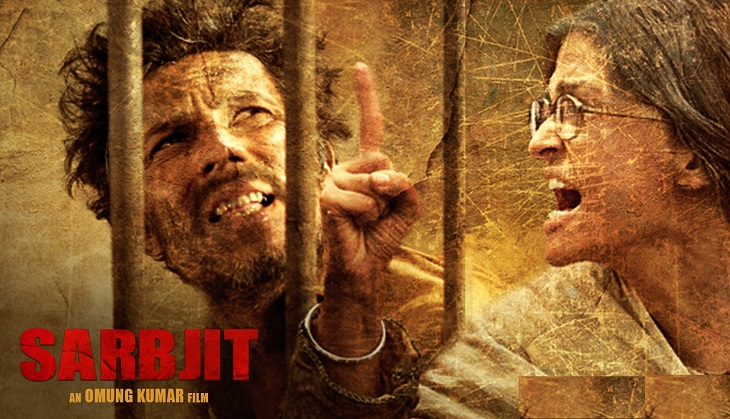 Sarbjit is a biopic of Sarabjit Singh, a farmer from India who is believed to be a terrorist behind a number of attacks in Pakistan.
The film stars Aishwarya Rai Bachchan, Randeep Hooda, Richa Chadha and Darshan Kumar in pivotal roles.
What may work for the film
The first half of Sarbjit moves at a brisk pace and the characters manage to capture and hold the viewers' attention.
The supporting cast of the film is a big plus. While this may be a career best for Randeep Hooda, Richa Chadha and Darshan Kumar also impress in their roles.
A few sequences like the scene chronicling Dalbir Kaur's interaction with Sarabjit Singh at the Pakistan jail are well-shot and supported by impactful dialogues. While the plot focuses on the geopolitical friction between the nations, a few sequences also attempt to capture the psychology of people across the border.
What may not work for the film
At its heart, Sarbjit is a gritty, dark tale.
The sequences showing Sarabjit Singh being harassed at the Pakistan jail are disturbing and might turn off the family audiences. Aishwarya Rai's Dalbir Kaur comes off as a bit too loud in the dramatic sequences.
Many may be put off by the fast narration - which packs in one too many non-linear sequences without giving the viewers enough time to absorb the emotional turmoil of the family.
The sequences are repetitive in the second half and the film is a bit too long for the kind of story that is being narrated.
How will it fare at the ticket window?
The film focuses on Dalbir Kaur's journey to save her brother. But one is left wishing that the plot focused on the different perceptions and media coverage of the case instead.
Sarbjit is a word of mouth-driven film that is majorly targeted at the audiences in the metro cities.
The film will get a fair opening at the Box Office thanks to Aishwarya Rai Bachchan's appeal. However, the film will find it difficult to sustain itself in the long run.
Sarbjit will release on 1,200 to 1,400 screens in India and the possibility of breaching the Rs 5 crore mark on the opening day will depend on the night shows. The occupancy in morning and afternoon shows is expected to be around 15 to 20%, which might rise to 30 to 35% with mixed word of mouth.
Box Office Prediction for Sarabjit:
Opening Day: Rs 5.15 crore
Weekend: Rs 18 crore
Lifetime collections: Rs 37 to 40 crore