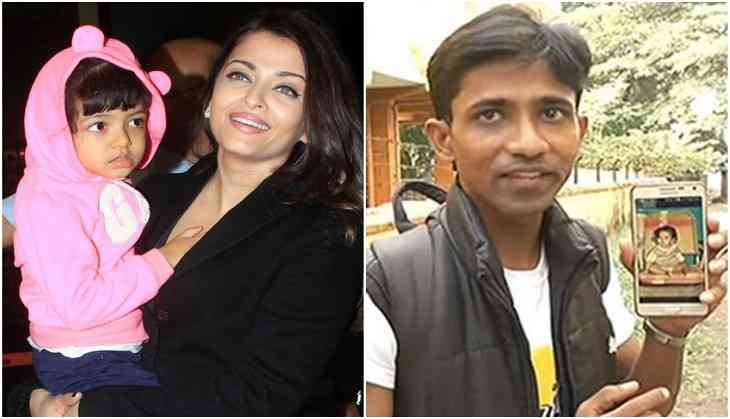 There are fans of many Bollywood stars who worship them throughout the country such that the fans claim to save their Gods (celebrities) if ever they are in any trouble but sometimes in expressing their love for their favourite star, they go too extreme in their approach such that they manage to make place in the headlines and yet again something similar has happened.
The recent example of the same incident is that of a 28-year old youth from Andhra Pradesh named Sangeeth Kumar, who has during a media interaction told that Bollywood actress Aishwarya Rai Bachchan is his mother and he was born to her with the help of IVF.
As per reports, this bizzare man further told that he was born to the actress six years before when she had went to win the crown of the Miss World in the year 1994. As per now, Aishwarya is only a mother of one daughter named Aaradhya Bachchan with Abhishek Bachchan and has not spoken on the matter yet.
The man added that his first two years of his life was spent with his grandparents, obviously Aishwarya Rai's parents, Brinda Krishnaraj Rai and Krishnaraj Rai. Sangeeth also adds Rai after his first and middle name but does not have any official documents to prove the same to everyone.
He said, "I was born to her by IVF in London in 1988. I was brought up in Chodavaram from age three to 27. I was with my grandmother Brinda Krishnaraj Rai's family at the age of one and two in Mumbai. My grandfather Krishnaraj Rai died in April 2017 (March), and my uncle's name in Aditya Rai."
He wishes to have her mother back and wants her number so that he can talk to her. His statement further read as, "My mother got married in 2007 with Abhishekh Bachchan and she is separated, living alone. I want my mom to come and live with me in Mangaluru. It's already 27 years since I separated from my family, I miss her a lot. I don't want to go to Vishakapatnam, at least I want my mother's number so that I'll be free."
This is truly hard to believe!