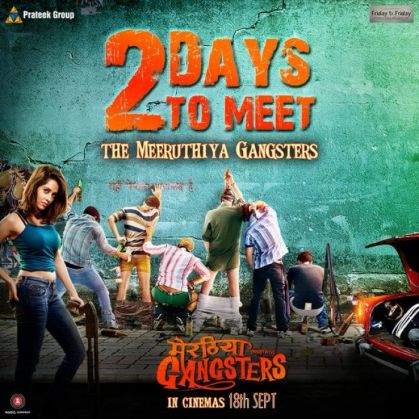 After winning raves for his performance of a youth who is sexually exploited by bored housewives in the sleeper success BA Pass, Shadab Kamal has an ensemble film ready for release, Meeruthiya Gangsters. This is his second film in three years but the media-shy actor is hungry for more.
Shilpa Shukla and you shouldered BA Pass but in your upcoming film Meeruthiya Gangsters you seem to be one of the many protagonists.
I believe there's no bigger challenge than being part of an ensemble of talented actors. You have to collaborate yet not get overshadowed. I got super excited when my director, Zeishan Quadri, described my character in the film to me. That was enough for me to get on board.
What is your role in the film?
Sunny, my character, is a simple innocent-looking boy with a psychotic nature. He may appear the calmest in the group but is actually the most violent one.
Meeruthiya Gangsters is a dark comedy/crime thriller about six friends from Meerut and their adventures and misadventures in the realm of crime.
The poster shows your friends and you pissing on a wall. What is the concept behind the poster?
It simply shows our rebellious attitude. We are gangsters, not law-abiding citizens.
Meeruthiya Gangsters was supposed to be a quickie. Why has it taken time to be released?
The film was ready long ago but I suppose the producers were looking for a suitable time for its release. Moreover, small budget films face a tough time even after completion.
Have you shot the film in Meerut to lend it in an authentic look and feel?
We shot the film in Meerut and had insightful interactions with the locals which helped us make our characters more believable.
Two films in three years. Would you call that a good score?
It's a horrible score!
Why has it taken you so long to come up with a film after BA Pass?
You wouldn't believe how many offers I had to turn down just to stay clear of getting typecast. I ended up being unemployed for the longest time but I don't have any regrets. After a year, Meeruthiya Gangsters came to my rescue. It gave me an opportunity to showcase my versatility as an actor.
Why do you spend so much time in Kolkata with your family when Mumbai is the hub of the Hindi film industry?
I have not settled in Mumbai permanently as yet, so I keep travelling back and forth. I'll be shooting for a Bengali film this month.
Would you call yourself ambitious or laid back?
I think I'm both. I'm ambitious when it comes to my career but I lead quite a laid back lifestyle. I'm a big-time couch potato.
Are you in touch with Ajay Bahl, the director of your film BA Pass, and your co-star Shilpa Shukla?
No, I'm not. It's not something I'm proud of but I'm very bad at keeping in touch.
Is Ajay Bahl considering you for his next venture?
I'm not aware of it but I do hope we collaborate again in the future. He is a great director and it would be sheer joy to work with him again.
Is acting the only arsenal an actor can rely on or is marketing, self-promotion, media coverage also important today?
It's a business where the actor is the product. There's no lack of talent in this cut throat industry but what sets you apart is the way you project and promote yourself.
Are you dating someone?
I'm not seeing any one at the moment.
Are you planning to marry in the near future?
I don't think I'm ever going to marry but I have a feeling I might surprise myself one day. But not yet.
- Bollywood News Service