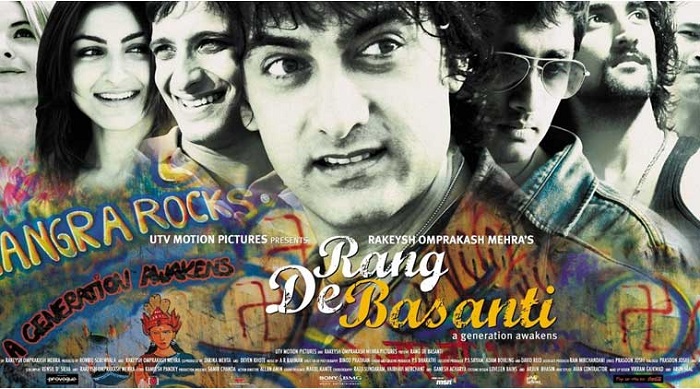 We all watched Rang De Basanti. We were moved by the film. And most of us still have at least one song from the Rang De Basanti album in our playlist. Such was the impact that the Rakeysh Om Prakash Mehra directorial had on the lives of Young India.
It has been 10 years since the release of Rang De Basanti, but the film is as relevant today as it was when it released on 26 January, 2006.
The Rang De Basanti cast celebrated the success of film at an event in Mumbai on 25 January.
Here are some interesting facts the team revealed about Rang De Basanti:
Rang De Basanti was initially titled Aahuti. However the writers and directors felt that the title was too out dated and hence changed the title to 'Young Guns of India'. Many had issues with this title too as some were of opinion that the title would not attract many viewers. Finally, everyone agreed to the title Rang De Basanti.
Rakesh Om Prakash Mehra met Aamir and narrated the plot of Rang De Basanti. It only took Aamir 20 minutes to agree to sign up for the film.
After signing Aamir Khan for the film, Rakeysh Om Prakash Mehra took over 17 months to rework the script. Meanwhile, Khan waited patiently for Mehra to get the essence right.
Way back in 2006, the film was made on a huge budget of Rs 40 crore and Rs 8 crore were spent on publicity campaign. While that was a big amount to recover, the film managed to do so successfully.
Did you know that Siddharth's character, Karan in the film has a moving back story? He was in love with Sonia (Soha Ali Khan) but she chose Ajay (R Madhavan) over him. Now that explains a lot doesn't it?
Then censor board chief, Sharmila Tagore, refused the clear the film as the plot of the film revolved around killing the Defence Minister of India. Later, a special screening of the film was organised for then Defence Minister, Pranab Mukherji, who had no issues with the film - it was soon cleared by the censor board.
It has been 10 years since the release of Rang De Basanti, but the spirit of the film lives on.