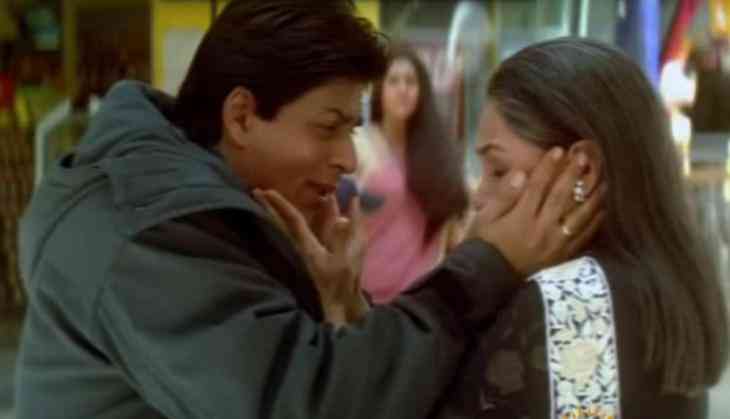 16 Years Of K3G: 5 Scenes that gives you 'mixed emotions' after watching SRK, Karan Johar's film
It is surely a hard to manage a huge star cast of Shah Rukh, Amitabh Bachchan, Kajol, Jaya Bachchan, Hrithik Roshan, Kareena Kapoor and others in a single frame but it looks like it was so easy for filmmaker Karan Johar and that's why he easily made Kabhi Khushi Kabhie Gham.
Today, the much-loved film K3G has completed its 16 years and the fans are celebrating it with giving so many memories on social media. Well, it is sure that most of the audience already have watched this film but today we are going to share some scenes of the film that will make you emotional and give you some proud moments.
1. Anjali sings Vande Mataram in London
In this scene, SRK and Kajol's son Krish sings Vande Mataram at his school function, this scene surely gives goosebumps to many of Indian especially when a mother joins his son to sing Vande Mataram in abroad.
2. Rahul meets his mother in London's Mall
Hrithik Roshan calls his parents in London on his birthday but his plan was to reunite his elder brother with them. The scene when Rahul enters the mall and his mother gets to know about only with internal feelings.
3. Rohan meets Rahul in London
It was after 12 years when Rohan went to meet his brother Rahul in London, and their first encounter after Rohan grown up was surely an amazingly emotional scene.
4. Rahul got to know that Rohan is his brother
After Krish completes his Vande Mataram, Kareena Kapoor (Poo) asks Krish who taught him that inspirational line that Rahul told to his brother, then he shows finger towards Rohan. Rohan and Rahul meeting on the bench give you some major brother goals.
5. Rahul comes to Delhi for Diwali
The film has shown a special bond between a son and his mother, whenever Rahul comes to anywhere his mother always gets to know just with internal feelings.