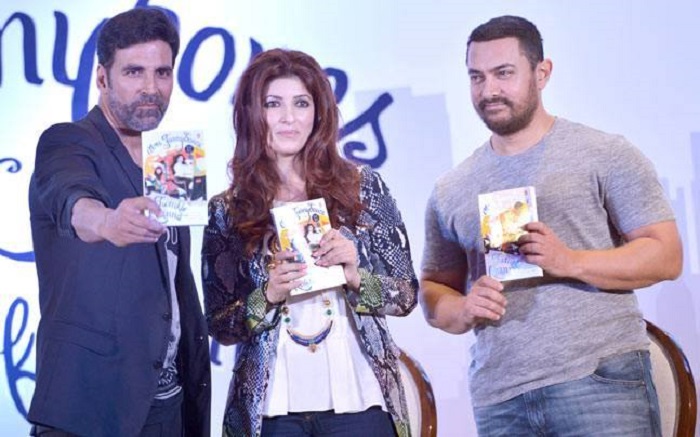 As Twitter her name suggests, @mrsfunnybones definitely knows how to make people laugh and steal the limelight from two superstars - Akshay Kumar and Aamir Khan present at the same event. As Twinkle Khanna launched her book -- Mrs Funnybones: She's Just Like You and a Lot Like Me last evening in Mumbai, the actress made the media laugh out loud. Below are the 10 quotes which prove that Twinkle Khanna done indeed have the funny bone:
My husband has extra inches... in height, which the other actors do not have.
I had decided that if Mela flops, I will marry Akshay and it actually happened.
I have not been on Koffee with Karan because my husband was scared that the first word I utter would be penis and he would not want me to say penis penis penis penis.
Karan used to see my small moustache and say I Love You.
When Akshay gets drunk, he sings songs like Mainu Dila Di Visa Dubai Da.
During a film, Aamir had gone up to a director and told him about his thoughts about a shot, but the director did not listen to him, so he went behind a rock and I saw him cry.
Before marrying Akshay, I had made a genetic list containing the number of diseases running in his family because I had to have kids with him.
My hubby does comedy and he gets paid in millions. With my comedy, I cannot even buy chocolates. If I need money, I will anchor an award show.
Radhe Maa's life should be made into a reality show. I have a fascination for her.
To make films based on books is not new in Bollywood. I don't want to name any director.