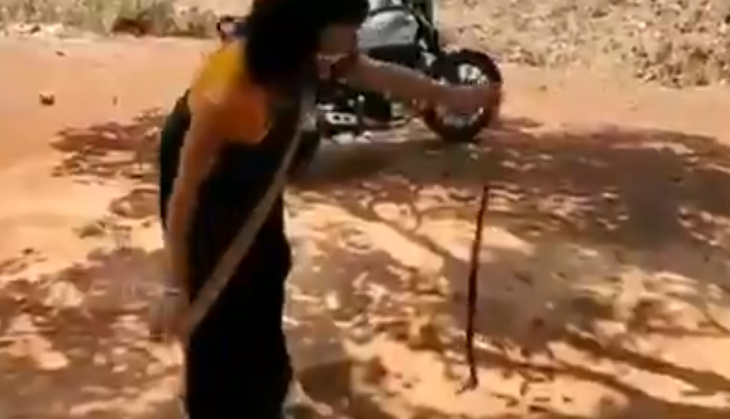 An extremely amusing video has surfaced the Internet in which a woman, dressed in a saree, was rescuing a snake.
The woman was identified as Nirzara Chitti, who is a snake rescue based in Karnataka. In the video, she can be seen calmly picking the snake up with her bare hands while people were gathered around to watch her and also filmed the whole rescue operation of a cobra.
The two-minute-long jaw-dropping video garnered the eyeballs as the woman was wearing a saree while carrying out her task, which is not the most comfortable cloth while doing such arduous activity.
In the viral video, Ms Chitti was seen using a stick to lure the ferocious snake out from behind a cupboard and then picking it up. She was also heard saying that she was dressed for a function and didn't have much time to change her clothes. "Lekin mujhe saree ki vajah se ye handle karne ko nahi ho raha," she says, explaining that her outfit made snake-catching more difficult.
Initially, a Twitter user identified the woman in the video as Virat Bhagini. However, later it clarified that the video featured Nirzara Chitti.
See Video:
Virat Bhagini, a snake catcher, was dressed to attend a wedding when she was called to catch a snake in a home. She did it without any special equipment with perfect poise in a saree. pic.twitter.com/uSQEhtqIbA

— Dr. Ajayita (@DoctorAjayita) September 12, 2020
The video has gained public attention and several users have applauded Chitti for her bravery act.
Check out comments:
she seems well trained and experienced even after catching the snake she carries on the conversation about the saree not being the right dress for catching snakes yet she did a very COOL job

— K G Surendran (@surendrankol) September 12, 2020
What a rockstar..! Super Swag

— Vertigo_Warrior (@VertigoWarrior) September 12, 2020
Courageous 👏👏👏

— Nirav Raval🇮🇳 (@NickNirav1) September 12, 2020
Never seen a Lady catching a Snake and that too a #CobraSnake
Heartiest Congratulations to her for such exemplary courage N special passion for an extraordinary job.

Need special appreciation by all.@AmitShah Sir @rajeev_mp Sir @PMOIndia Sir for Informing of an unusual courage

— SK Padhi (@HAPPY_ARMY_MAN) September 12, 2020
Wow hats of to her. It looks like a spectacled cobra rt?

— HiddenRoots (@HiddenRoots6) September 13, 2020
Meanwhile, the video has garnered over 457k views on Twitter.
Also Read: Scary! Man finds snake in toilet bowl; know what happens next