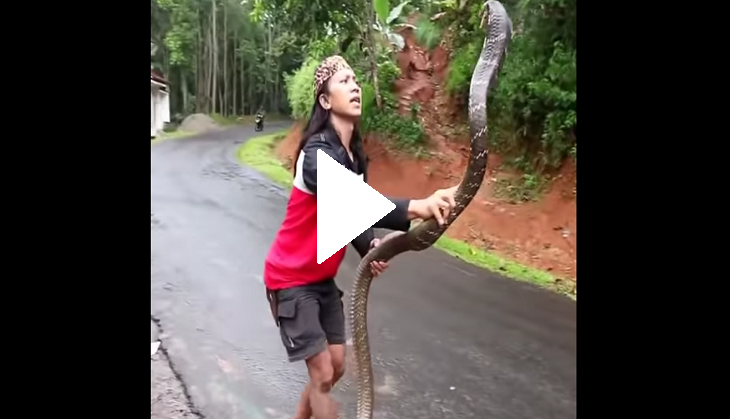 Screengrab of viral video showing woman capturing snake with bare hands (Image Source: YouTube)
An old video of a woman catching a huge snake with her bare hands has surfaced on the Internet. The way she tried to capture the snake is leaving netizens in shock.
In the video, a giant venomous snake can be seen in the room of an abandoned building while the woman is trying to capture it.
The brave woman even picked up a stick to control the hissing snake however, she threw it away. Later, she tried to catch the huge reptile with her bare hands.
Also Read: Venomous snake bites zookeeper; scary video goes viral
After a few attempts, the woman finally caught the snake in her grip while other men were seen standing at the main gate of the room. The woman came out of the room with the snake in her hand and climbed some stairs and released the snake on the side of a road.
However, she again tried to catch it when the snake slithered back towards the building. The reptile also tried to attack the woman, who later dodged it and caught it by its mouth.
Finally, she put the snake into a sack.
Watch the video:

The video was shared on a YouTube page called Mr Master in March 2021.
"Oh my God !!! Amazing Catch Snake By Hand, " the video caption reads.
The viral clip has garnered 88,186 views and many surprising reactions from netizens.
Also Read: Cobra enters woman's house; what she does next will amuse you!
One user wrote, "Too risky to play around with the world's deadliest snake like this..!!"
Another said, "There are much safer ways to capture and relocate a snake. Stupid stunts like this can endanger one's life and "inspire" more morons to try these."
What do you think about the video?
Also Read: Man tries to rescue king cobra; what happens next will shock you!