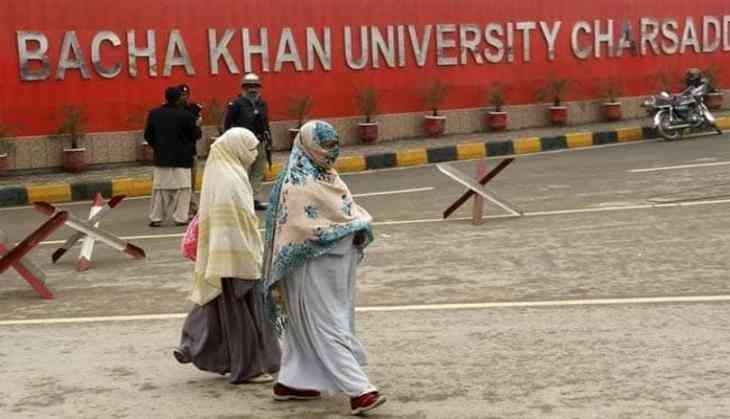 Bacha Khan university bans male and female walking together in campus (File Pic)
A bizarre notice issued by a Pakistan university in Charsadda in the Khyber-Pakhtunkhwa province, which banned the movement of boys and girls in the varsity's campus.
The circular was circulated by the Assistant Chief Proctor Farmanullah on September 23, 2019, in the Bacha Khan University. The varsity took the step to maintain the decorum and discipline in the campus.
University especially focussed on the term 'coupling' and also termed the roaming of male, female students together as unethical/ un-Islamic.
Bacha Khan University also said that if any students are found anywhere in the campus coupling then strict action will be taken against them and also a fine will be imposed.
The notice reads, "It is hereby notified for the information of all students that the unethical activities around the university are in a surge, undue/un-Islamic/uncultural relationships are strongly discouraged. Let the students be very clear that coupling of male and female students is not allowed, if students are found anywhere in the campus coupling, strict disciplinary action would be taken against them. The parents of the students would be called into the university and fine will also be imposed.
Therefore, to avoid any untoward situations, no male and female student's correspondence should occur."
باچا خان یونیورسٹی، چارسدہ میں طلبا و طالبات کے اکھٹا گھومنے پھرنے پر پابندی عائد. pic.twitter.com/a1DxuFmKwD

— Shiraz Hassan (@ShirazHassan) September 26, 2019
However, this circular has surfaced the Internet and drove the thousands of attentions. Many are in favor of the decision while several made fun of it and slammed the varsity.
Check out reactions of netizens:
Which century we are living in

— Iqbal masood siddiqui (@Iqbalmasoodsid2) September 26, 2019
Jis ilaqay me y university h waha aurto ka alaa taleem hasil krna mushkl h agr is notice s unko university jane k ijazat mlte h to y acha iqdaam h. Asal objective taleem hasil krna h larko k sth ghoomna nhe. Mulk k har aurat agr taleem hasil krle to ane wale nasal kamiyab hoge.

— imfareha (@syedafareha2) September 26, 2019
Good step we should Follow the teaching of Islam.

— FawadKhan (@FawadKhan145) September 26, 2019
Will it stop earthquakes?

— Zaigham Abbas (@Zaighamabbas85) September 26, 2019
Coupling ???
Coupling= correspondence??🤷🏼‍♂️

— Saurav kumar (@Sauravk32012195) September 26, 2019
@IMMahmoodKhan under which law bacha Khan University is doing this? Shame on their education system.

— WS 🇵🇰🏳️‍🌈 (@Suliemankheil) September 26, 2019
What's your take on this coupling notice circulated by Pakistan University?
Share your views on our FB page...
Also Read: Insane! Woman sets own house on fire while trying to burn ex's love letters