In a bid to prevent the spread of coronavirus, people are following COVID-19 guidelines. Even people are preparing themselves for their reopening of businesses that have been closed due to the imposition of lockdown due to the coronavirus pandemic.
One such case has surfaced the Internet from North Canton where a small restaurant owner has planned on how he will maintain the social distancing inside his restaurant when the lockdown will be lifted.
He used clear shower curtains between tables in the view of coronavirus guidelines.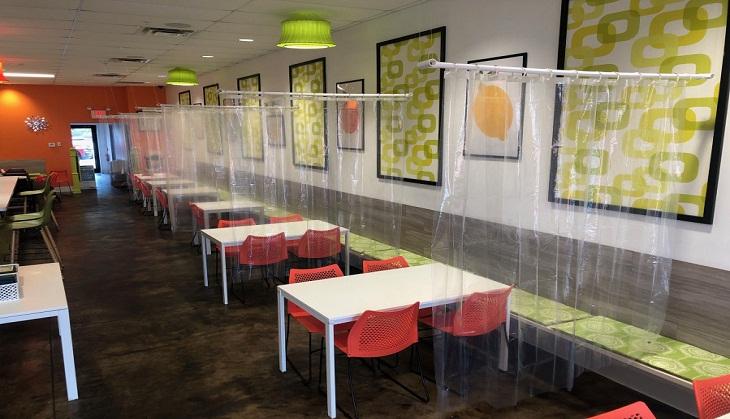 WJW photos
Like all restaurants across Ohio, the Twisted Citrus in North Canton were forced to close due to the COVID-19 restrictions.
As per restaurant owner, Kim Shapiro told fox40.com, "It was without warning and it happened right before St. Patrick's Day, right before March Madness, right before spring break, you know, all those kind of things, so it was a struggle."
"Our space doesn't easily lend itself to a 6-foot social distancing between parties. Doing the math, if we had to accommodate that and only have 10 tables in here it wouldn't make financial sense for us to reopen," said Shapiro.
Due to space issues, the owner has created a separation between the tables by using the clear curtains which can be sanitized and also sprayed down between guests.
It's just a step of preparation to maintain the social distancing amid wreaking havoc due to COVID-19.
According to Shapiro, he has re-sanitized his restaurant. Also, planning to install barriers, masks for the customers, and the employees, how to maintain social distancing with customers.
He also said that by adding clear curtains, customers will not feel that they are boxed in.
However, the gradual reopening of Ohio, Gov. Mike DeWine is allowing restaurants with outdoor seating to open May 15. While indoor seating can be opened from May 21 but with restrictions.
Also Read: Couple hosted wedding ceremony amid lockdown; police dramatically stormed into function