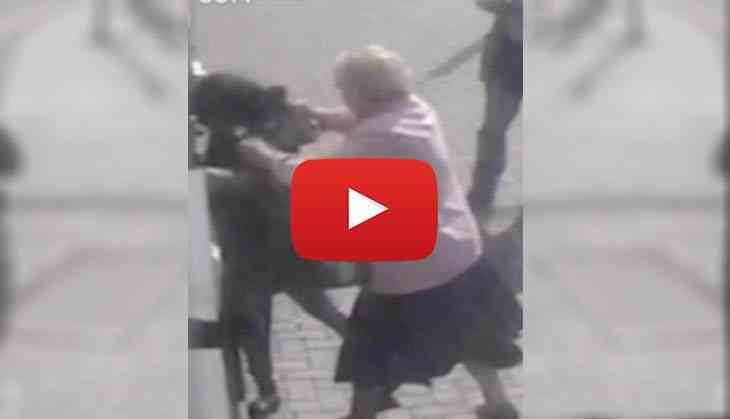 Old people are the easiest target for thieves and snatchers as they think that elderly people can't resist them while stealing their personal belongings.
But, there are very few who can hit back when in trouble.
One such video is doing the rounds on the social media in which an old age pensioner can be seen manhandling a thief brilliantly. Yes, an 81-year-old woman who got stopped by a thief and also tried to steal her bank card. The whole incident was caught on camera and later surfaced the social media.
In the viral video, the old-age pensioner can be seen fighting back with a thief like a pro.
The old woman has been identified as Doreen Jones, who was withdrawing cash from an ATM in Birmingham. Soon, a woman came up her behind and tried nicking her bank card. But, the 81-year-old woman responds immediately and snatcher her card back from the thief. Also, she grabbed the thief by her hair and collar.
Don't believe us? Here's the proof:
However, the resistance of old lady shocked the thief as Doreen didn't allow to snatch her bank card even for second time.
"She wasn't expecting me, I tell you. I thought, 'No, you're not having my money, I've worked hard for that. She started screaming. I don't know why she was screaming, it was me that should have been screaming and crying," Doreen told BBC Crimewatch.
The cops released the footage on social media in a bid to identify the thief.
Also Read: Viral! #WeMetOnTwitter flooded social media; Twitterati shares hilarious memes