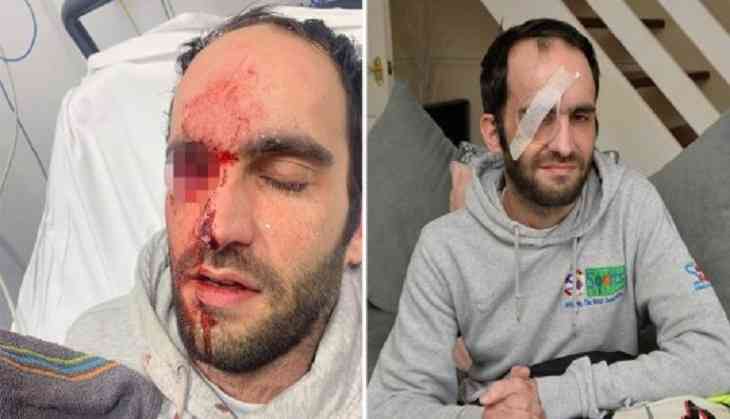 A biker has permanently lost his eyesight after he was hit by an egg. The shocking incident took place last Friday when a 31-year-old man was returning from his job.
The egg was thrown from an oncoming vehicle which hit the right eye of Marc Toone. After this distressful incident, Toone said he could easily have been killed after the mindless act by a teenager.
He has been undergone seven hours of surgery. Doctors were still removing the fragments of eggshells in a second surgery. However, medics were failed to save his right eye vision.
Marc said that he was travelling with his visor up along Newton Lane, Wigston, Leicestershire at around 11:15 pm on January 10. He told that a car was approaching him with its full-beam headlight. Marc also flashed him, but they stayed on full beam.
Because of which he couldn't see anything properly. He revealed that something hit his eye. He could also feel on his cheek and chin and inside his jacket too.
"I managed to pull over and shone a torch on my hand and it was covered in blood where I had been wiping my eye. 'I had my visor up because it would have fogged up with the temperature that night.'
After knowing about Marc's accident, his fiancée Sarah Simms and son Callum and son, 11, rushed to the hospital and heard him yelping in pain. The first emergency operation of Marc took four hours and then, he was discharged from Leicester Royal Infirmary on Sunday when, he said, reality began to dawn.
He also underwent a second procedure on Wednesday and what should have been 45 minutes took over two-and-a-half hours.
Meanwhile, March is currently on sick leave from his job at The Yews pub restaurant in Great Glen. It might be possible that he wouldn't return to his job again because of the damage.
However, police have arrested a 17-year-old, in Staffordshire on Saturday on suspicion of causing grievous bodily harm, has since been released on police bail.
Meanwhile, the investigation is still going on and officers continue to appeal to anyone with any information to make contact.
Also Read: Bizarre! Mumbai man held for ringing doorbells for a hilarious reason