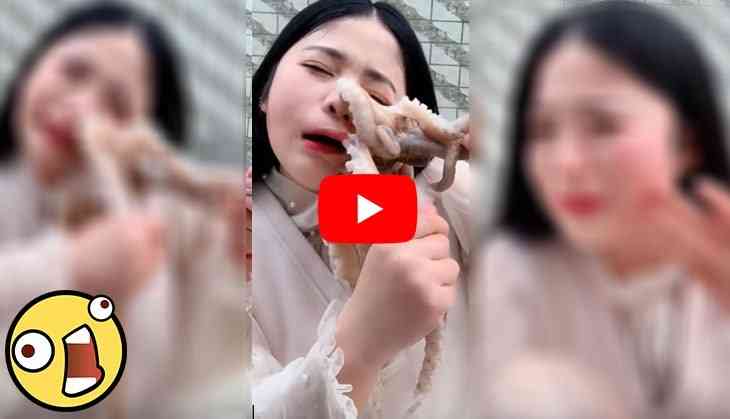 We all have seen the famous show on Discovery channel, Man vs Animal, in which the man can be seen eating live animals that give us goosebumps.
The same thing has been done by a woman who tried to eat a live octopus and also recorded her video of doing so.
In the video, a Chinese food blogger trying to eat an octopus in a live video and during eating, all of sudden the octopus hasped on to her face with its tentacles.
The video also shows that when the blogger tried to remove the octopus from her face then, in that process, her face got ripped off.
She tried so hard to pull the creature and was screaming in pain.
Finally, in the end, the octopus removed from her face but she suffered from injuries on her face and cheek.
According to the reports of Daily Mail, the incident left her with a small wound on her cheek.
See video:
This scary video of a woman eating octopus has left social media users in shock.
However, this video was first shared on the Chinese social media platform Weibo. Later, it went viral on the Internet and gave goosebumps to many viewers.
How do you feel after watching this video? Share and comment....
Also read: Weird! Man swallows Apple AirPod while sleeping; what happens next will make you say OMG!