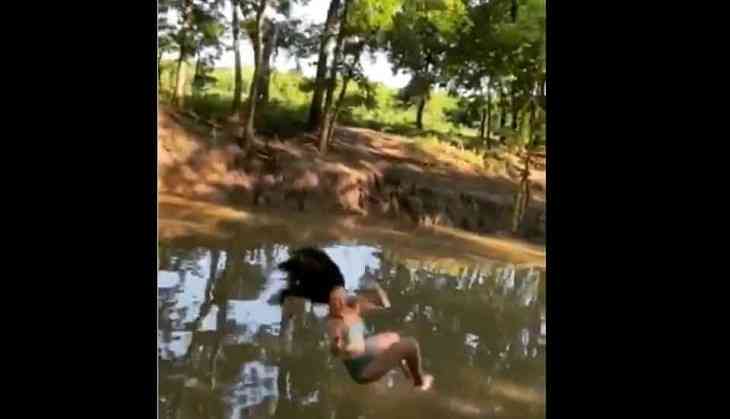 A bizarre video of the wrong stunt has gone viral on social media which has left many users to go crazy as they were trying to understand what was exactly happened with women.
The short clip of rope swing stunt was shared on Instagram by a user, Myka Shae.
In the video, the two women can be seen standing on a ladder placed near a tree, and one of the women all set for her rope swing stunt. When she jumped into the pond with the help of a rope, she lost the balance midway and fell into the pond. Well, it was natural but what sought everyone's attention was that when she split for a second before falling into the pond.
The video shared with a caption, "hit me hard like.... Happy Monday, friends! I hope my sister makes y'all laugh as hard as I did watching this - On repeat".
If you don't believe us then look at yourself:
After seeing the video, gram users are trying to figure out what was that made her split.
The comment section has been filled with various comments and her fall also became a matter of discussion for online users.
One of the users wrote, "This is one of the greatest videos of all time," a user said in the comments section. Some users said that the girl had a rope tied to her wrist.
While some thought that the extra-thin rope might be tangled in her feet which was appeared at the beginning of the video.
What's your view on her fall?
Also Read: Skydiving gone wrong: Two skydivers spiral to ground after parachute malfunction [Watch]