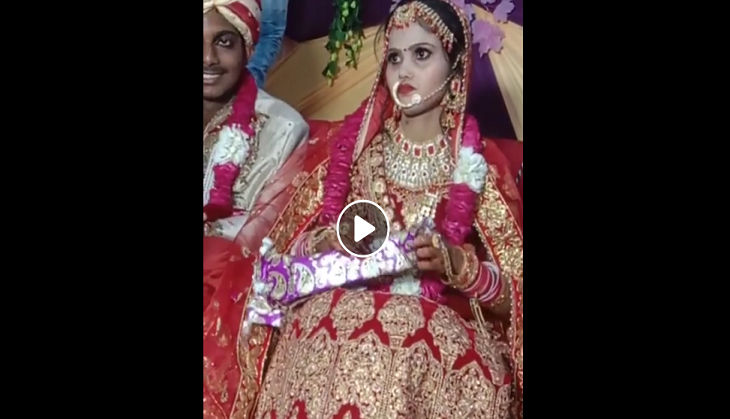 Screenshot from the viral video (Image source: Facebook)
Indian weddings are full of fun and entertainment. Especially, the groom's friends leave no chance to poke fun at the newlywed couple. One such video goes viral, wherein the groom's friend gave an embarrassing gift to the bride. The reaction of the bride after seeing the gift has gone viral on social media.
In the viral video, the groom and bride can be seen sitting on the stage when the groom's friends congratulate them. They also give a packed gift to the bride. When the bride opened the gift, she found a baby feeding bottle in it. The bride gave an angry look and immediately threw the bottle away.
The video was shared by a Facebook user named Banty Thakur. He captioned the clip, "Bhabhi ke saath masti."
Watch Viral Video:
The bride was quite irritated with a gift while others continued laughing. Despite the fact the bride didn't like the gift, the wedding guest again handed the bottle to her. However, somebody took that bottle away from the bride.
Meanwhile, the video has garnered over 3 lakh likes while over 1600 people shared the video.
What's your reaction after watching the reaction of the bride?
Also Read: Woman pleads outside wedding venue as lover gets married secretly; video goes viral