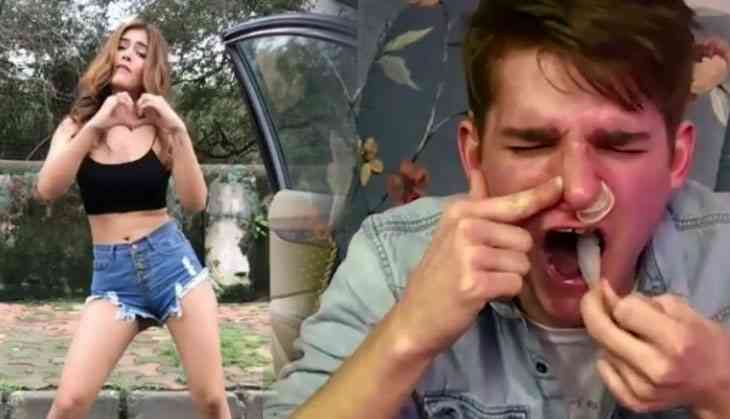 These days we have seen that how various trends have been evolved on social media which has been transferred from one country to another. Recently, new trends have been followed on social media in which people use to give some challenges to each other and it has been followed globally. However, challenges are given on social media for doing fun with others. But sometimes their fun has taken a serious angle which even took the life of people.
Recently, #kekechallenge is getting viral even in India also and social media users are getting mad to do such kind of activities and also love to share it on their social media account. But some shocking incidents have also come to light during accepting these challenge. However, Police have also warned the users not to attempt such activities.
Not only Keke challenge has brought storm on the Internet but some other challenges also went viral on the social media which would drop your jaw. However, all challenges are not for fun some have turned out to be very dangerous for the users.
Let's have a quick look at some:
1. Neymar challenge
It was in trend during the FIFA World Cup 2018 which was given to us by Brazil's super hit player Neymar Junior. It comes to light when Neymar Jr started rolling on the field and soon it become viral on social media. Several people created memes on social media while some took it as a challenge and imitated the player.
Let's have a look:
2. Ice Bucket Challenge
It is also called as ALS Ice Bucket Challenge, in this challenge people used to dump a bucket of ice and water over a person's head either himself/herself or by taking someone's help. It went viral in August 2014.
Check out how:
3. Condom snorting challenge
As the name suggests, in this challenge people have to snort the condom through their nostrils and pulling it out from the mouths. However, it's not as easy as it seems because condom can also stick in the windpipe which would result in death!
4. Blue Whale Challenge
This game has become the addiction among the teenagers. While playing this game several deadly challenges have been given to the players and even many of them have committed suicide in the last stage of the game.
5. Keke Challenge

This is the latest challenge which has brought the Internet by storm. In this challenge, people step out from their cars and started performing the dance on the popular song ''Kiki Do You Love Me?' However, doing this challenge several dangerous accidents have come to light as people forget everything while dancing on the road.
Have a look at the current challenge:
We could only advise social media users that before following trends just think twice that what challenge you are doing is not dangerous for your life.
Watch Video:
Also read: #KekeChallenge Videos: Nia Sharma, Karishma Sharma and others present a hot version of this viral challenge and this is what Mumbai Police did!