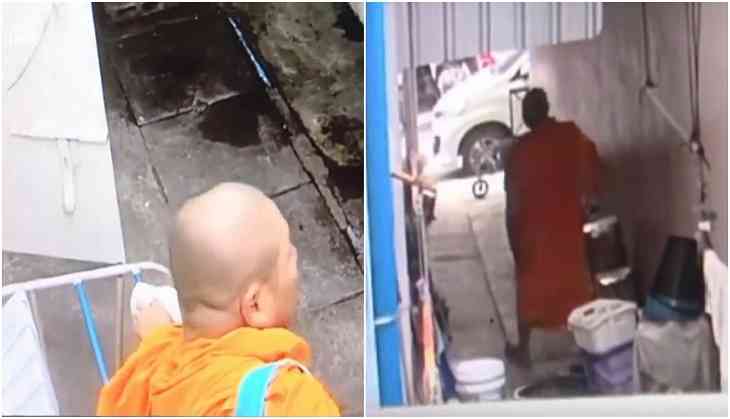 Monk is a member of a religious community of men typically living under vows of poverty, chastity, and obedience. Well, earlier in the past a Greek Monk was known for living his life for 82 years without ever laying eyes on women.
There are several stories of monks and their vows, but today we will tell you story of a monk that is totally different from all these.
Recently, A Buddhist monk was caught on camera stealing women's undergarment that was hanging to dry. The 49-years-old monk, named Theeraphap Worradilok was found stealing women's bras and panties which were hanging to dry on the clothes stand. The monk immediately ran out of the scene but unfortunately, his shameful act caught on CCTV.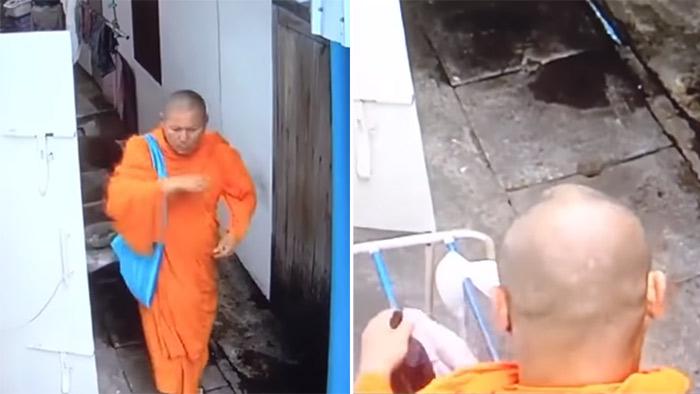 According to Daily Mail, the footage recorded shows him in the streets of Suphaburi, Thailand where he picked the underclothes up from. He slipped six pairs of drying underwear into his blue shoulder bag before leaving.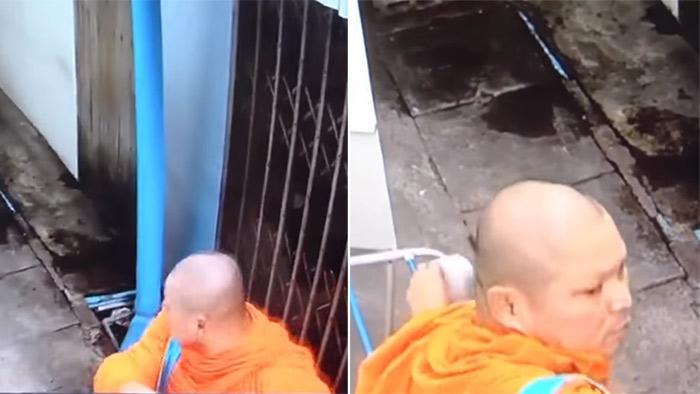 This incident came to light when, the owner of that house, Kittisak Khajorannetikhun, 40, informed his wife about his wife and daughter's undergarments are missing from the place. Later, they checked the CCTV footage where they were shocked to find a holy man stole their clothes and ran off the spot.
The man later called the police, who launched a manhunt for the monk. Also, his temple's spiritual leaders then banished him from there. Kittisak runs a gold shop in the same area. He said that those undergarments didn't cost much and they can afford more but the pairs that were stolen were his wife's favorite one. He stressed on the fact that other women should be warned about this.
"The most important thing is that other women should be warned about the monk. That's why we have reported it. It's quite funny and we're not shaken up by it so we don't want to make a fuss. But it's the right thing that he is caught for this."
Police Colonel Phuwadit Khongpet, who is in charge of tracking down the rogue holy man, said, "it's a fact the man in the video was a monk. He is originally from Nakhon Nayok province. We have interviewed the abbot at the temple who said the monk might have been confused because he had stopped taking medication."
The officer also added, the monk had tarnished the temple's reputation and that officers will be continuing the investigation, find the monk and charge him with theft according to law.
However, we know the story is quite hard to believe so watch it by yourself and let us know what you have to say on this act of a monk. Here is a video: