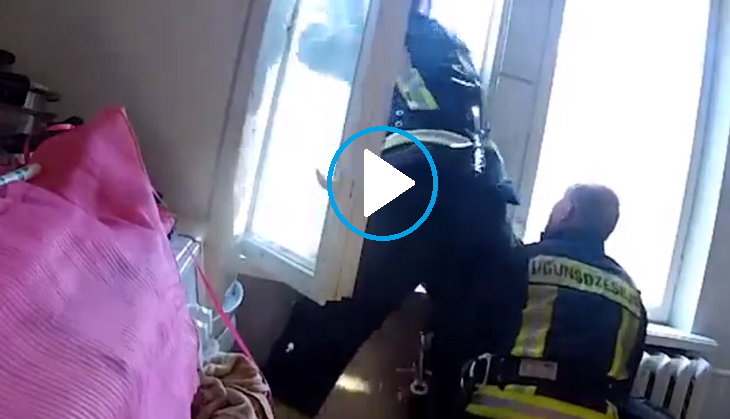 Firefighter manages to catch a suicidal man mid-air
A heroic act of a firefighter has gone viral on social media after he saved the life of a man who was trying to kill himself. The video has amazed netizens and people hailed the firefighter for his bravery.
The jaw-dropping video shows that one of the firefighters can be seen standing near the window to catch a suicidal man.
The video displays the bodily strength of the rescue worker along with their out-of-the-box strategy to catch the man.
Also Read: Terrifying video shows family jumps out of the car rolling down the cliff
As soon the video further moves, it shows how the firefight was waiting for the man who was trying to end his life. As soon as the man plummets off an apartment building, the firefighter immediately holds the man's legs. Soon, he grabbed him while other workers came forward to take the man inside through the window.
The video was originally posted by Reddit and then it went viral on social media.
See video:
Firefighter snatches suicide jumper out of mid air, Phenomenal 🤩 pic.twitter.com/VA2NcXKK5w

— Amazing Posts (@AmazingPosts_) August 13, 2021

After watching the video, netizens wondering how the firefighter managed to catch the man mid-air.
Also Read: Terrifying clip shows bull moose charging at man recording its video
One of the users wrote, "With gravity increasing the speed and velocity that body weight had to be double. I'm absolutely amazed at that catch. . . Thank God for that firefighter!"
Check out comments:
I hope the suicide jumper got the help and support needed after this. Very sad to see. What a hero the fireman is. He had a one in a billion chance to catch the guy.

— Haitch (@Jedimynds) August 13, 2021
Unbelievable...! Guardian Angel...

— neminem alium nisi me (@Exologicus) August 13, 2021
My hands are shaking. This is amazing. With appropriate mental health care, this person might go on to have an amazing life.

The firefighter is a superhero.

— Luther von Wolfen (@LutherWolfen) August 13, 2021
His colleague was holding his leg, he wasn't going to die.
Fantastic catch though. Amazing catch. And I'll bet it wasn't pain free 🙌🙌

— Leon (@leonsopinion) August 13, 2021
Meanwhile, the video shared by a Twitter user has garnered 533.9k views and received 3.8k retweets and 24.7k likes.
Also Read: Woman falls into 50-feet deep well; know what happens next