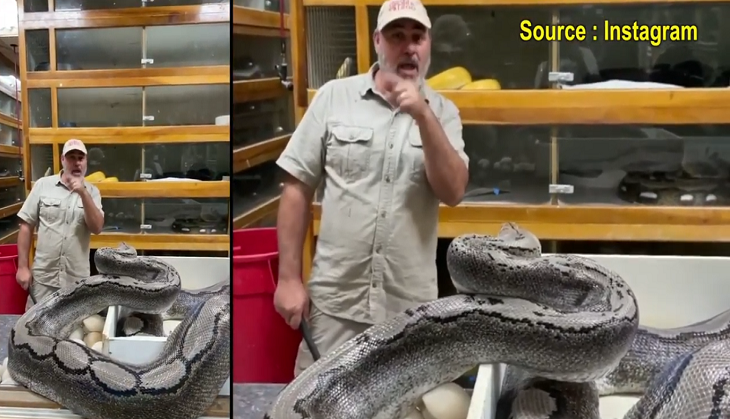 A scary video of a snake attacking a man is doing rounds on social media. In the video, a huge snake pounced on the zookeeper and nearly took his face clean off.
The video was shared by Jay Brewer, who runs The Reptile Zoo in California. Brewer keeps on sharing several snake videos on his Insta account.
Also Read: Venomous snake coils itself around man; know what happens next [VIDEO]
This time he got just save after a large snake attacked him while he was talking about it. He shared the clip on his account @jayprehistoricpets.
Thankfully, Brewer was able to dodge the attack. He captioned the video, "Wayyy too close for comfort 😳 this is a clip from the craziest IGTV I still need to post"
Brewer can be heard saying "evading the attack in the nick of time."
"Wow! As soon as my eyes shifted off of her. See how smart this snake is? The second I shifted my eyes off, she knew that I wasn't ready to jump."
"Almost smoked me. I mean that is incredible. So that was crazy, you guys just saw one of the closest strikes I've had in a long time," he says.
See Video:
The viral video has garnered over 8.9 lakh views on the photo-video sharing app and received thousands of stunned comments.
One of the users wrote, "Nice reflexes, my friend. Amazing video," wrote one person in the comments section.
"Man.. you gotta wear the GoPro head harness for times like these newscaster damn that looked hella close," another remarked.
Also Read: OMG! These live snakes will give you massage in spa; check out hair-raising video