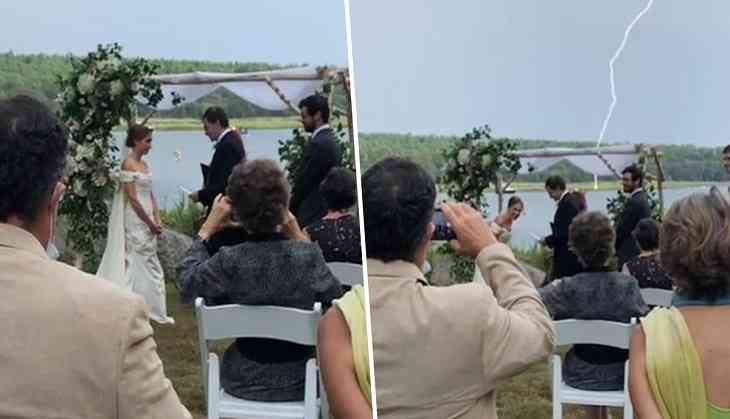 Wedding is the most auspicious moment that the groom and bride want to save in their memory. But this Boston couple's wedding has become memorable not just for the bride and groom but for everyone who has watched the video of their wedding.
In the video, the couple can be seen talking about the year 2020 and saying that it 'has not been the best year'. When the groom cracked the joke about the year 2020 then, lightning struck near the wedding venue.
Interestingly, the thunderbolt got captured in the video. Meanwhile, the video is doing the rounds on social media.
According to Indian Express reports, the couple identified as Aaron Sawitsky and Denice McClure, who was getting married at Buzzards Bay in Marion, Massachusetts.
Despite the weather forecast predicting no rains on the day, the weather went from sunny to overcast.
When the groom cracked the joke that "Let's face it—2020 has not been the best year."
That's when the wedding function was interrupted by lightning and loud thunder.
Sawitsky shared the viral video with a caption, "Mother nature has one wry sense of humour. Thankfully no one got electrocuted and we finished our vows before the rain started!"
Reportedly, the couple had a challenging year as their wedding was cancelled four times due to the COVID-19 pandemic, they lost jobs and even had to move.
Meanwhile, the video has garnered over 48k views online.
Also Read: Beirut Blast: Bridal photoshoot interrupts after massive explosions; hair-raising moment captures in video