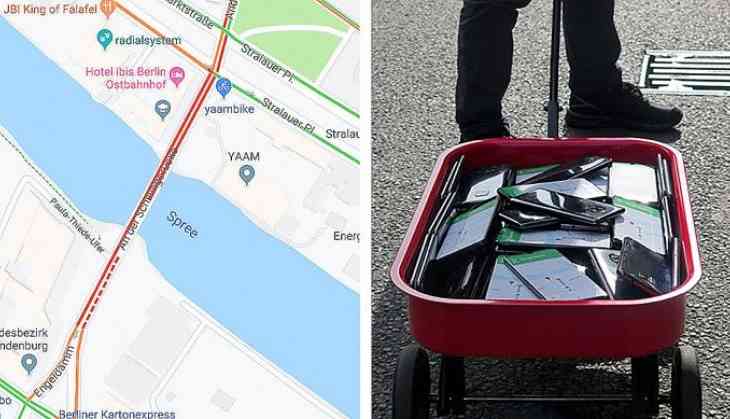 Google Maps may just have been tricked by a comparatively basic hack, if a new video clip is to be considered. Google's Maps service is an indispensable tool for people who drives a vehicle in a huge city, providing specifics on traffic snarls on major roadways.
Many of us persistently look into Google Maps before traveling to any place, to suitably plan our routes. But the system is not dependable and can be hacked, as hysterically displayed by a man who used 99 smartphones and a hand cart to cause fake traffic jams in Berlin.
The man identified as Simon Weckert, a Berlin based artist, pulled off the stunt and detailed his discovery on his YouTube channel, In the video, Weckert is seen pulling 99 smartphones with location turned on in a cart on city streets.
The slow pace of the cart and the fact that 99 smartphones were used caused Google Maps to buy that there were a lot of cars using the street that was actually empty. Google uses this technique to collect traffic data. Smartphones in cars give information to Google, including the speed at which they are travelling and number of smartphones on that perticular street.
Also Read: OMG! Woman jumps into well to save dog's life; here's the viral video
Also Read: Shocking Video: Man drags Delhi traffic constable on car's bonnet for 2 km
If the speed is low and number is high, Google would display that part of the street as red, suggesting that there is a traffic jam. The video displays the streets on Google Maps slowly turning from green to red, suggesting that there was a traffic snarl on those streets. Google's navigation suggestions would then advise the users to avoid those street, even though they were clear to drive on.
Weckert hasn't shared any further details, so it is likely that this could have been faked. If it is authentic, Google should ideally be looking to prevent such an exploit from being used, since this could have very real and physical implications on traffic movement.