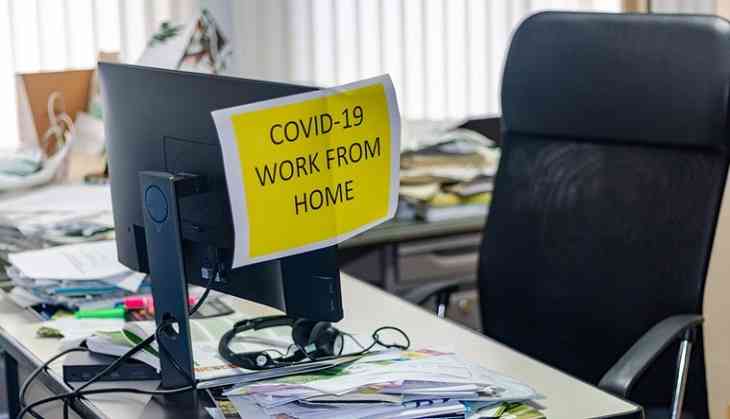 Working from home has become important of life amid this COVID-19 pandemic. Some people are enjoying their WFH as they are getting time for their families while many people are facing difficulties while working from home.
One such work from the home story of a woman has gone viral on social media. The woman got so upset after being interrupted by her husband and children that she was forced to take an extreme step.
Sharing the story on Reddit, the woman wrote, "My husband is currently unemployed but I recently started working from home in my office for five hours a week. Thing is my husband would constantly barge into my office and interrupt my work over simple requests he could get done himself."
The woman revealed that she has to attend various meetings to discuss her projects. Due to which she is on calls with her colleagues most of the time. However, her husband and children interrupted her while she was busy with her official work.
She further told that her husband bursts into her office space by giving the most bizarre requests like "can you help fix my phone? Or can you help get the kids ready while I have a shower?"
The woman continued, "I've talked to him about how this has been impacting my work, I already handle the chores when I'm not working so I think five hours of work should be respected. He'd apologise and say he didn't know then do it again and say it was spontaneous."
"Two days ago, I had an important meeting and he barged in, interrupted my meeting asking me to fix his tie because he was going out later. It was horrible in front of my colleagues and superiors," she added.
Eventually, she decided to put a lock on her office door so that no one would come inside her room without a key.
"When my husband got home in the evening and saw it he looked absolutely shocked. He asked what was the lock for and I replied that because of him interrupting my work sessions this was my only way," she said.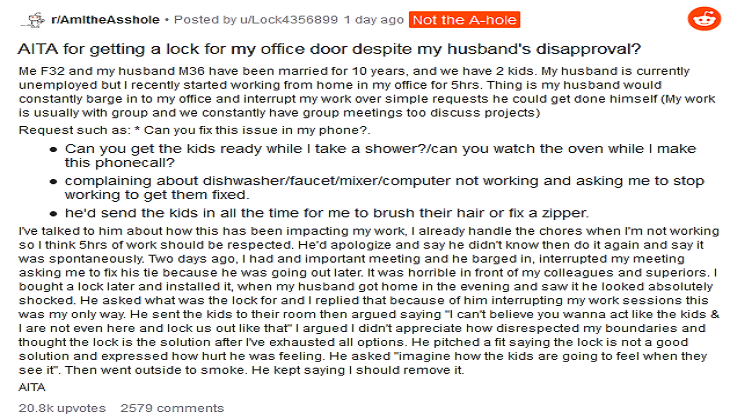 Woman posted on Reddit
However, her husband screamed at her and said that he can't believe that she will act like a kid and lock them like that.
The annoyed woman further wrote that she wasn't happy how her husband and children were disturbing her while she was working. Therefore, she has no other option left after being exhausted of all options.
Her husband also said that lock is not a good solution and told her that he was not happy with her act, the woman wrote.
She further said that her husband told her "imagine how the kids are going to feel when they see it."
Also Read: Woman checks sea otter's temperature; how he reacts will make you smile!
When her husband insisted to remove the lock, the woman asked Redditors to suggest to her what she can do.
One of the users told her, "You are working from home. It's not mommy time, it's not fix the sink time, it's working time. He needs to get his head around it and respect that."
Another wrote, "You wanna act like the kids and I aren't here," she should've said, "Yes. I want to pretend like I'm away from home in an office while I work, and I'd like for you all to pretend the same."
Also Read: Man ties girlfriend to car's roof for this bizarre reason [WATCH]